DAY 4 - SUNDAY 18TH MAY 2003
Up at 6:30 am as the sun is just rising. I sit on the verandah and write up my trip report while the ocean slips by and a warm breeze caresses my face.
You can't beat a facial caressing to set you up for the day.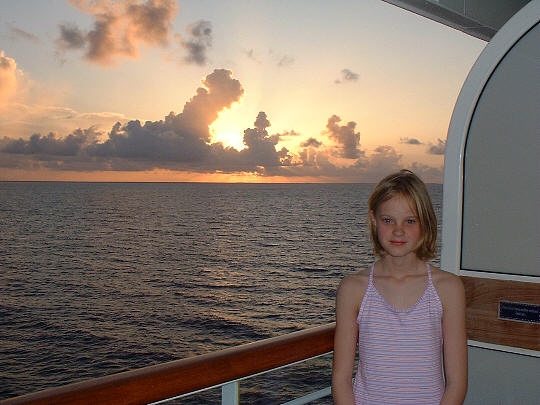 This is the first REAL day of our holiday because it is the first full day of the cruise.
India and Georgia join me as we enjoy the peace and quiet. At least we do until the family next door rise and start chatting away loudly. At least they disappear back into their room quite quickly so we can get our relaxation time back. Am I coming across as anti-social here? I'm not really, I just don't like people.
By 7:30 am Tam has surfaced and we decide to have breakfast at Topsiders. It's beautiful at this time of the morning as there are not too many people about and we sit and enjoy the morning sunshine staring at the wake of the ship disappearing into the distance.
Breakfast here is the usual mammoth American breakfast buffet. The only complaint is the bacon, crispy as per normal. Sorry my American friends, you can put a man on the moon and build killer theme parks, but you ain't no good at bacon.
After breakfast we sit alone on the aft overlook on deck 7. Or as Tam puts it, the blunt end of the ship (as opposed to the pointy end). She may be an intelligent, attractive woman, but technical she ain't.
We get out today's Navigator to see what we want to do today. By the time we have finished with the highlighter pen every second of the day has been mapped out.
Up to deck 10 where Tam and I relax on the sunbeds for an hour while the girls have a dip in the pool. It's not really too full as it's still early, so they enjoy it.
At 10:00 am we attend the DVC members meeting. The place is packed with over 150 people and we are amazed to find when the host asks if there are any overseas members that we are the only ones.
We are given free baseball caps on the way in and, after an informational chat, they have a quiz where they pull names out of a hat and give away prizes if you get a trivia question right. Of course, no one gets one wrong as they are gently helped along the way to the right answers.
Our name is pulled out and we are told the answer 'Jeopardy' style and have to work out the question. He says the answer is the Boardwalk Villas, so I tell him the question must be 'What is my home resort?' It might not be the correct answer, but he is amused enough to give us the DVC tote bag anyway. We also collect a pen and some luggage tags. Now that's what I call a decent haul of swag!
Next for us is a 'Disney Behind the Scenes' presentation in the Buena Vista Theatre where a man tells us about synergy in the Disney organisation and shows a couple of films. He then opens it up for questions. Some of these are a bit 'in depth' and the girls are bored, but I enjoy it. The best part is at the end when they show some behind the scenes footage from the Haunted Mansion film starring Eddie Murphy that is in production. I'm going to see this one, it looks great.
It seems we have come full circle from classic films suggesting rides and attractions at WDW to attractions providing the material for films.
At 1:00 pm it's time for lunch at Lumiere's. Outside of Palo this is considered the best restaurant on the cruise. The setting is a little more formal than the other restaurants and themed around Beauty and the Beast (obviously!)
We pass on the appetizer and skip straight to the main course. Georgia, ever adventurous, plumps for the burger. Tam and Ind both have the baby back ribs and I have the steak sandwich. The food is excellent and the ladies especially enjoy the ribs. Dessert is the pecan pie (which Tam declares the best she's ever had) and chocolate fudge sundae.
The food is as good, if not better than I had expected. As you can tell I am a lot more upbeat today. Sorry about yesterday, maybe I was just tired. Or perhaps I am entering grumpy old age early.
It seems that if you avoid the children's and family pool areas you can find some very relaxing places.
Next event of the day is Mr Toad's Wild Race. This consists of children pulling on a piece of string to move a wooden toad along a track. India and Georgia both have a go and win through to the semi-finals. Here they are beaten by a professional jockey from Brooklyn. All right, it's by a girl of Georgia's age really, but I'm sure she is on illegal stimulants. Reece's Pieces and Coca Cola.
Outside to deck 10 where we listen to a reggae band and enjoy a beer in the 90 degree sunshine. The breeze is marvellous as it takes the edge off the temperature. As Tam says, this is more like we imagined the cruise to be. Spank my bottom and call me Norman if I'm not starting to enjoy myself!
Back to the stateroom at 4:40 pm to get ready for the evenings activities.
This is semi-formal night and will be first time that I get to wear my rented tux. I have to say that I really look as cool as John Travolta on a good day. Even Tam says so. Don't believe me? Ask her then.
You: 'Does he look as cool as John Travolta on a good day?'
Tam: 'Yes he does'
Me: 'Told you so'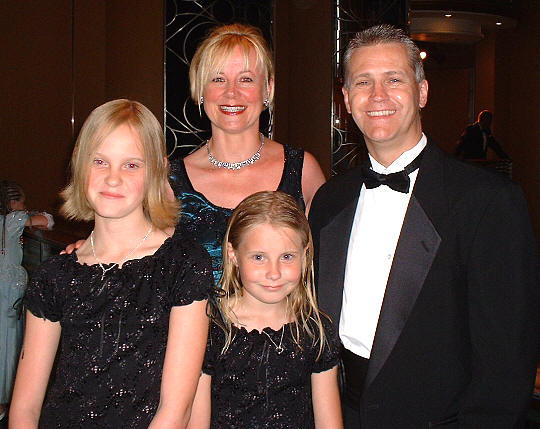 Tam and the girls are dressed up to the nines as well. We take photos and then head to the Walt Disney Theatre to see the Hercules show. This is a fun production which roughly follows the same script as the film, but with some major deviations.
I feel like I'm attending Oscar night as I walk into the thousand seater theatre dressed in my tux with a beer in my hand. I know champagne would be more appropriate, or possibly a vodka martini (shaken not stirred) but I'm a simple soul at heart.
After the show we move to Off Beat to watch the children's duelling pianos show. I think the only issue I have with the family entertainment is that it's geared to the younger age group. My girls fall into the 'Too old for kids shows, but not old enough for the teen things' age group. Of course, the Oceaneers Lab is more age specific, but if you want to do things as a family it is more difficult.
As an example, the duelling pianos show ends with Chip 'n Dale coming into the room for the Okey Cokey. Or as it's called in America, the Hokey Pokey. I prefer this, it sounds vaguely smutty. When they announce 'Everyone on stage for the Hokey Pokey' I am half way out of my seat before I realise they are talking about a dance.
Dinner tonight is in Parrot Cay, which I must say is much less garish than I expected. Our new friends from Jacksonville are there again, but no one else, so we are sat on a table for 14 with half the seats empty. It would be better if they could put us on a smaller table, much more conducive to conversation.
Fred is an ex military man who now trains new pilots on flight simulators. Makes my job as quality engineer seem a little dull.
Both India and I follow Liam's advice and have the ribs which are excellent. Tam has the grouper and Georgia experiments with the PB & J sandwich. Dessert is crème brulee cheesecake and lemon meringue tart, again very good.
During the meal Fred asks me about the World Cup. Jackpot! We have been put on a table with one of the very few Americans who know anything at all about football (the round ball variety). We spend a considerable part of the meal discussing the US showing in the World Cup.
After the meal Tam and I are off clubbing, so the girls take their Key to the World cards and go off to get some sweets, then have a walk about before taking themselves off to bed.
Tam and I go to Rockin' Bar D to watch a Canadian comedian/ventriloquist. He is incredibly good and even creates a character out of a split tennis ball with a couple of eyes on it.
We move on to watch the adult duelling pianos show which is reasonably well attended. This show seems a little short as they only play for ¾ of an hour. I am used to Jellyrolls on the Boardwalk where they play all night.
At this point I am starting to feel a little foolish in my tuxedo. Although it is semi-formal night there are very few who have bothered to wear even a jacket and tie. I have gone from James Bond to a penguin in a matter of hours.
Tam is now starting to get tired. You get a feeling for this sort of thing when you have been married for a number of years, call it intuition. That and the fact that I glance across at her during a particularly rousing rendition of 'Great Balls of Fire' to see that she has nodded off.
Still she hasn't done too badly as it is now midnight. Off to the stateroom where we find Don has left a towel swan on the bed. Nice one.