DAY 5 - MONDAY 19TH MAY 2003
Another at sea day.
This is the first REAL day of our holiday because we would be at work today if we weren't on the cruise. (This is getting harder to justify now).
Up around 7:30 am to view the Navigator and see what we want to do today. The people in the next stateroom rise at 8:00. I know this as the children start screaming their heads off at each other shortly afterwards. And I don't mean shouting, I mean screaming. This goes on for 5 minutes before I have had enough and knock on the adjoining door. I hope he's not a big bloke.
Up to Topsiders for breakfast where I have a freshly prepared omelette, which is lovely. It really is nice sat outside in the morning sunshine. The chap clearing off the tables is from England and we chat to him for a while. He has worked on the cruise for 4 years and is a Chelsea fan, but I forgive him.
Up to deck 10 where we set up base camp above the adults only pool as we are all going off to do various things at different parts of the day.
Firstly the girls go for a swim, then Tam departs to watch 'Disney's Art of Entertaining – How to Make Dazzling Desserts'. Like she needs encouragement.
I sit and toil away at the trip report. No, there's no need to thank me, but free beer can be forwarded through the usual channels.
Lunch is next at Parrot Cay and today is the Asian buffet. The range of foods is staggering. Unfortunately Tam and I are off to the High Tea at Palo at 3:30 so we are trying not to eat too much and that is very difficult. By chance we are sat on a table with a family from Orlando, Ken, Cindy and their children. Cindy kindly offers to take Georgia to the cinema this afternoon with their little girl Margot. This solves a problem for us as India is going to give the Oceaneers Lab another try, but Georgia is not so keen.
Tam and I attend a walking tour of the Magic where we learn that there are over 270 different designs of carpet on the ship, over 50,000 signs and that the colours of the ship are based on Mickey Mouse, red, yellow, white and black. Actually the hull is not black, but midnight blue. The lifeboats are yellow, which is very unusual as they are orange on most ships. Disney had to get permission from the maritime authorities in order to do this. Or perhaps they asked the bloke at the local boating lake.
Unfortunately we have to break off the tour before the end to head for Palo. We are surprised at how few people are doing the High Tea as I had read that it is very popular.
You have a choice of teas, 4 small sandwiches of various types and a scone with jam and cream. It's very relaxing, a sort of scaled down version of the Grand Floridian tea.
The servers are very good. One lady from Finland is telling us about the film 'A Wonderful Life' and I ask her if it is better than 'Die Hard With a Vengeance'. I'm not sure that she gathered it was meant to be a joke. You can't blame her.
Back to the cinema to pick up Georgia who has watched 'Holes'. Don't ask me what it's about, I didn't see it!
India strolls back from the Oceaneers Lab where she has painted an animation cel and we all move off to the Promenade Lounge for the cocktail of the day, a Yellow Bird. They are just finishing up a samba lesson and Tam and the girls are particularly interested in this. For the rest of the night all we get is Tam imitating the woman, 'Left, right, forward, forward, now sexy walk!'
While enjoying our cocktail Mandy and Mark walk by. They have survived the Surial Bath and don't look too bad for the experience, so perhaps it will be ok for me and Tam when we do it on Thursday.
Another quick beer and it's off to the Walt Disney Theatre for Morty the Magnificent.
I love it that you can buy a beer out front and have a drink while watching the show. Let's face it, I would enjoy watching paint dry if I could have a beer.
'Morty' is a very well produced show. It's a musical incorporating a range of the standard magic tricks – sawing a lady in half, levitating a woman etc. I've just noticed it's always a woman in these things. You girls are getting a bad deal here.
Anyway, I think I enjoy the show more than Hercules, although I am outvoted by the women 3-1. I don't let it get me down because I know I'm the brains of this outfit. Come to think of it, I'm the beauty too!
After 'Morty' we have 1 hour for the 4 of us to shower and get ready for dinner, which is a bit of a rush to say the least. I wear my suit (which I have dragged all the way from England) as Lumiere's is a nice establishment. (They have one that isn't?)
Fred and Natalyn are without children this evening as they have discovered the joys of the children's clubs. Wish ours would.
We have a wonderful meal and the conversation moves from the DVC to music, films and shopping. Liam and John are very attentive and the food is great. I have the escargot and Herb Crusted Sea Bass, but Tam can't decide between a couple of entrees so Liam brings her both the shank of lamb AND the tenderloin of beef. All the meals are good, but the tenderloin of beef melts in the mouth.
Crème brulee all round for dessert.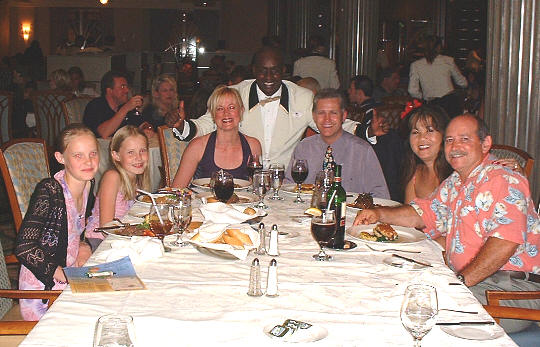 A stroll around deck 10 follows to see the ship in all its night time glory. A lovely little beauty she is too.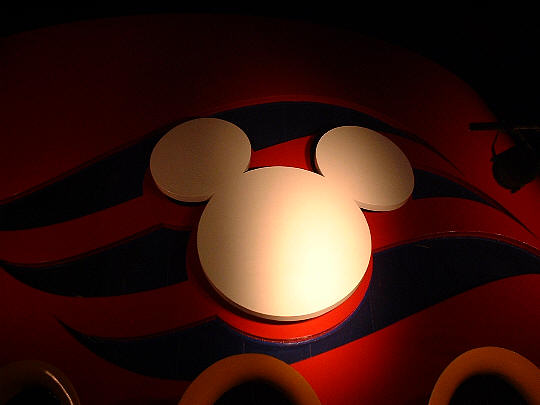 Back to the room as we have an early start in St Maarten in the morning. Don has made a really cool towel dog.
I sit on the verandah with a relaxing beer and write up my trip report.
It obviously gets very breezy on the ship, but the temperature seems fairly constant noon and night.
I am writing this at 11:00 pm sat in only my shorts (steady women, control your lust) and feeling very comfortable indeed.