DAY 6 - TUESDAY 20TH MAY 2003
This is the first REAL day of our holiday because it is the first Caribbean island we visit. Do you think these excuses to prolong the holiday are getting a little tenuous yet?
We get up at 6:30 am as we hope to see the ship dock in St Maarten. Unfortunately we are already here, but it is a fine sight to walk out on our verandah to see mountainous St Maarten spread out in front of us. Maybe 'mountainous' is going a bit far, but the hills are very large.
We go up to Topsiders for breakfast and watch the 'Explorer of the Seas' dock on the other side of us. It may be a bit bigger than the Magic, but it ain't as pretty. All other cruise ships just look big and white whereas the Magic has real character to it.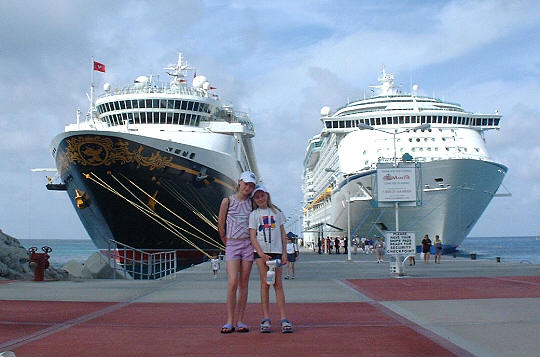 We leave the ship around 8:30 am and rent a car from the Hertz office. It costs $50 plus $12 insurance. Perhaps we could have got it slightly cheaper, but we have gone with a tried and trusted brand name. The car is a Subaru Impreza. Not that this means much to me. As long as it has 4 wheels and goes forward when I press the pedal, I am happy.
We drive out of Phillipsberg and head off up the road. Our first stop is Galion Beach which is very quiet and pretty. Pushing onward we visit Orient Beach. This is very much as I expected from photos I had seen on the internet. A beautiful beach, but lots of beach side cafes, bars etc. with rows of sunbeds. Nice, but not for us.
We do, however, see a rather portly gentleman strolling up the beach with the crown jewels on display. Not the sun kissed lovely I was hoping for.
A couple of wrong turns later we arrive in Marigot. For those that have seen Speed 2, this is the town the cruise ship runs into at the end. It is what I think of as a typical Caribbean town with many pastel coloured buildings.
Tam has to get an outfit for tropical night so we look around a market selling the usual tourist type stuff, but with some interesting stalls as well.
For some reason Tam is feeling ill, so the shopping is brief. Hooray! (That the shopping is brief, not that Tam's feeling ill). She finds what she wants and we return to the car.
Back along the coast we stop at Friars Bay Beach. Now, this is what we have been looking for.
It is along a gravel track and the only buildings are some houses they have built on the side of a hill and a couple of beach bars.
The sand is not the pure white powder of Orient Beach, being slightly grittier, but that apart it's perfect. Green wooded hills all around and crystal clear turquoise water lapping onto a gently shelving shore.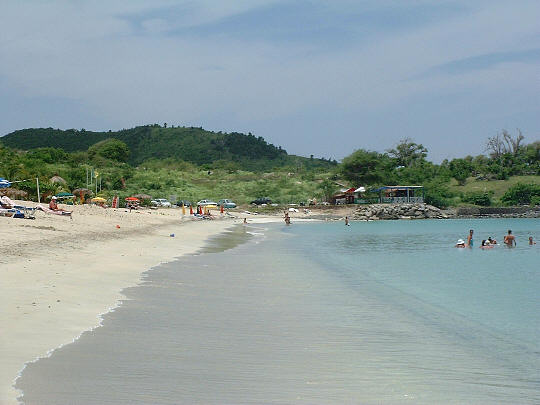 We walk along to the end of the beach in front of the Friars Bay Beach Cafe, (a rather posh name for a glorified beach hut) where we are asked if we want sunbeds and when I ask how much I'm told that 'Nothing if you eat here'. Seems a good deal. We order 3 cokes and a bottle of water which comes to $10.50, a bit dear, but not when you get 4 sunbeds and 2 beach umbrellas thrown in for the day.
There can't be more than 30 people on the whole beach and we are right up one end practically on our own.
Poor Tam isn't feeling any better and eventually she is sick. Still, if you have to throw up in a carrier bag there are worse places to do it than Friars Bay Beach. Typical of Tam, 3 days on a ship and she gets land sick!
At least she feels better for a while afterwards.
The girls are having a whale of a time in the wonderfully warm sea. India has overcome her long term fear of sharks and jellyfish to float around in a rubber ring. You can never find a strap on shark fin when you want one, can you?
Tam is not feeling up to lunch so me and the girls go to the beach restaurant. Here's where the good value finishes as there is not really anything cheap on the menu. It all starts around $12 and goes up from there. In the end I have a chicken Caesar salad (only average) and the girls have a basket of chips (fries) each, not good value at $7 for the two. With 2 cokes and a beer the total is $32 and we have really only had 1 proper meal!
I'm not sure if this is indicative of food prices in St Maarten or not, but I didn't think much to it.
After lunch the girls return to the sea and I take a walk up a track at the end of the beach that leads to Happy Bay. This is inaccessible by car and apart from a couple of boats bobbing away I am the only one here. It's very pretty, but you have to really want to make the trek as the path is full of loose stones and you have to scramble about like a mountain goat at times.
Talking of goats, we have seen quite a few roaming around as we have been driving about and Georgia is really taken with them. She's not quite so pleased when we walk past a restaurant and see goat curry on the menu!
Back at Friars Bay, Tam is feeling worse again so I decide we had better return to the ship.
We drive back through Marigot where it must be rush hour as it's nose to tail up and down tiny streets for a couple of miles. The car is returned to Hertz and we clamber back aboard the Magic.
We put Tam straight to bed for a rest and I sit on the verandah with a beer to write up the trip report while the girls head off to watch the Lizzie McGuire Movie. I think this is the woman who discovered a cure for rat scabies in 1879 and the film re-enacts her battle with vermin infestation in downtown Chicago whilst bringing up 14 children and holding down a part time job as a stripper in the local Burlesque theatre.
I could be wrong on this one though.
The Explorer of the Seas pulls away at 6:00 pm. It really is an awesome sight watching these huge vessels move around.
I am going ashore again for a little while when Tam wakes up and says she feels a little better and will come with me. There is very little at the pier head apart from a couple of bars and some over priced duty free shops. We don't really have time to catch the ferry across to the centre of Phillipsberg, so return to the Magic.
Don is just finishing up preparing the room for the night and has already done a towel animal. Tam says it's a crab, I reckon a frog. So that could make it either a crog of a frab.
The girls return from their film and we get ready to go out.
Tonight is tropical night and I have a shirt that could render people temporarily blind.
In Animators Palate we meet up with Fred and Natalyn. More people have made an effort tonight with bright Hawaiian shirts in abundance.
I have the beef ravioli followed by pork loin. India and Georgia both start off with the fruit boat, which is pineapple with banana covered in pink coconut. Georgia has the shrimp for main course, something reasonably healthy for once.
Tam is still not feeling too good, so she just has a salad and jacket potato then goes for a lie down in the stateroom.
The remaining Stringers have Pina Colada Bread Pudding for dessert, which is very good and I am under orders to get one to take away for Tam to eat in the morning. Liam obliges.
Now Tam has left our table for 14 is down to 5! We're dropping like flies.
After the meal we go to see how Tam is. She's determined to go to the Tropical Sail Away Party, so we head for deck 9 and the open air fun and games.
There is a band, a show by the characters and a performance by the Disney dancers as well as a lot of music and manic attempts to whip up the party atmosphere by the crew.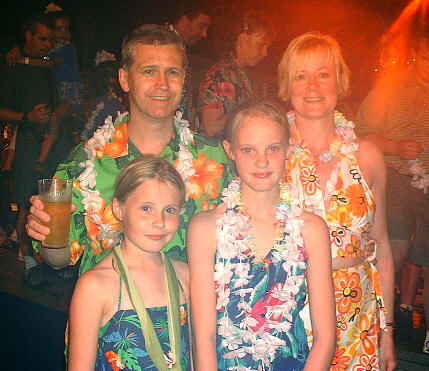 We meet up with Fred and Natalyn and Fred and I swap a couple of beers.
Georgia is tired by this time and Tam's still not very good , so they both go off to bed while India and I stay. The dancing continues and me and Ind give it our best shot.
Back to the room at 11:30 pm. Unfortunately we have to be up at 6:00 am tomorrow morning to go through immigration before we can disembark in St Thomas.