DAY 7 - WEDNESDAY 21ST MAY 2003
The alarm goes off at 6:00 am when we are all sound asleep. Thank you Disney for allowing us just enough time to recover from the 5 hour time difference before making us rise at this awful hour to go through immigration prior to enjoying the delights of St Thomas.
Never mind, this is the first REAL day of our holiday because ……. er……. Because I say it is ok?
Down in Rockin' Bar D we line up at 6:30 am as instructed. We meet Mandy and Mark. Mark says 'I hope the photos turn out ok'. What photos? 'The ones I took of you last night dancing with a beer in your hand'.
Doh! I can only pray for some disaster to occur at the processing lab.
Tam is not feeling all that special again and we ask at Guest Services about whether she should see someone. As soon as she mentions she has been sick they tell her she must go to the medical centre when it opens at 9:30 am. I suppose they are still being extra careful after the Norwalk virus thing.
Plans for an early exit from the ship are now well and truly scuppered.
Tam has taken a sea sickness tablet and has started to feel a little better, so we go to Parrot Cay for breakfast where the chef prepares my usual omelette.
It's like watching an artist at work.
Back in the room we get ready for the day and then go to deck 10 to pick up some towels and enjoy the view over the harbour. It's very pretty with lots of small boats bobbing around.
The Explorer of the Seas pulls in behind us. Late again, eh boys?
Our ship's better than your ship!
Our ship's better than your ship!
Down to the medical centre at opening time where Tam fills in copious forms detailing every event from conception to present day and eventually gets to see the old doc.
When I say 'old' this is not entirely accurate. Nearly all the staff are female and some of them are rather attractive. I'm thinking of developing a quick allergy myself.
We finally manage to leave the ship at 11:00 am with Tam feeling much better.
We get a taxi from the port to Megans Bay ($6 each plus $3 entry to the beach) and the lady driver (must be my lucky day) gives us a lot of information about the place as we go.
Megans Bay was left to the people of St Thomas with the stipulation that no hotels can be built on it.
This is what you think a tropical beach should look like.
A mile of pure white sand bordered with palm trees and vegetation, the sea is even more turquoise than yesterday.
Lots of people remain by the stretch of beach where the taxis drop off, but we walk right up to the far end where there is hardly anyone about.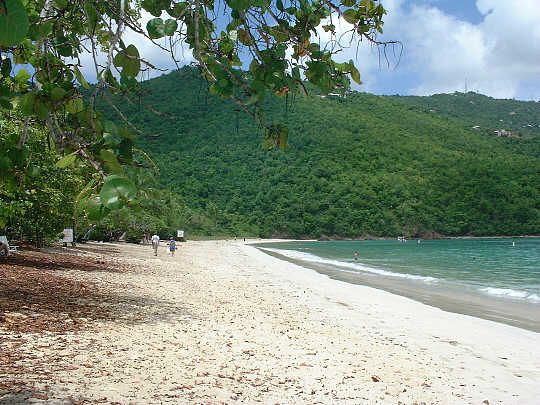 The girls go straight into the water closely followed by Tam. I realise things are back to normal for her when she says 'I'm starving'.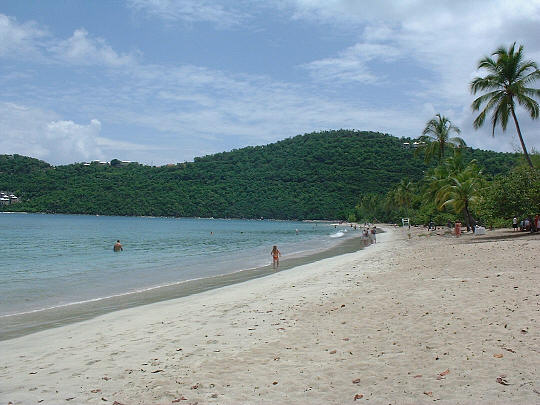 Then, at 12:30 pm, a most undesirable event occurs. The wind gets up, the clouds roll in and it starts to rain. Flippin' cheek! Doesn't it know I'm on holiday? It's still warm so the girls carry on building sandcastles and playing in the surf, while Tam and I sit under a tree and wander where we can get a blanket for our legs.
It starts to pour down so we take cover and survey the scene for half an hour or so until it eases off.
The taxi ride back is in a vehicle that looks vaguely like the trucks you ride in on Kilimanjaro Safaris. There are 15 of us crammed in and we get some magnificent views of both sides of the island.
I have to say that I enjoy St Thomas more than St Maarten. They are quite different from one another. St Maarten struck me as being poorer than St Thomas and is more 'old Caribbean'. The buildings are probably more authentic and we certainly see more locals than tourists.
St Thomas looks more modern (at least the part we saw), altogether more 'Americanised'. Not that I think this is a bad thing. As I've already said, I prefer St Thomas, I think it is prettier.
Back on board the Magic we have lunch of hamburgers and chicken sandwiches which Tam declares the best meal of the holiday so far as her appetite is now fully restored.
A quick trip to the stateroom and then we are off again, this time on the tramway (a cable car) up the mountain beside the port. The view from the top is fantastic, especially of the Magic and that inferior white boat beside it.
There is a bar and a few shops up the top, but it is still quite expensive at $15 for adults and $7.50 for children.
A quick look around the shops and it's back on board at 4:15 pm.
Just before 5:00 the Magic leaves port. We pass the white ship and wave to the sad souls aboard. Sympathetic lot us Disney cruisers.
It's strange how quickly you come to view the ship as 'home'.
We return to the wild ocean. It's actually more of a tame ocean at this point. I've seen rougher billiard tables. Let's hope that's not tempting fate as it's overcast and trying to rain.
We all shower and get ready for the evening. I wear a suit and tie as we are going to Palo tonight. First we are off to the theatre to watch Who Wants to be a Mouseketeer. This obviously runs in a similar format to the TV show. They choose a contestant by row and seat number then, if it's a child, a parent can go up with them and if it's a parent a child comes up with them to sit in the hot seat.
There are 3 lifelines: 50/50, ask the audience and ask the panel. The panel are chosen from volunteers and one of them is Cindy, the lady who took Georgia to the cinema the other day.
There are 10 Disney related questions and if you get all 10 correct you get a free 7 night cruise for 2 people!
The first question is worth $20, the second $40 etc up to $80 for the 4th, which is the first point at which your money is safe. The 7th question is for $175 and this is the next safe point.
So off we go to pick the contestant.
Row L. That's our row. Seat number 33. Hold on, why's everyone looking at me? Oh, oh. In a theatre containing approx 700 people, I'm the one!
I grab hold of India and push her up on stage, hiding behind her. We are introduced to the audience and India sits in the hot seat with me standing behind her.
The first couple of questions are quite easy so we are up to $40, but the third one has us stumped. How many legs support Spaceship earth? I'm convinced it's 3, but that's not one of the options.
The chap running the game says it's better to take a 50/50 than ask the audience as there are may be a lot of CM's out there who are very knowledgeable and you should keep this up your sleeve for later.
We go 50/50 and get left with 4 or 6. Great. WE are very nearly going for '4' when Rich (the question master) says 'It's REALLY big!' At this point I finally work out that they hold your hand up to $80 so you go home with something. A quick change of mind and India answers '6'. Correct! I'm still going to look for myself in Epcot next week.
We get the next question right as well so we've now got $100.
The next question is a bit tricky.
Which of the following Disney films has the most songs:
a. Song of the South
b. Cinderella
c. Alice in Wonderland
d. The Jungle Book
India thinks it's The Jungle Book, but I'm not so sure. We ask the panel. Cindy and the rest of them come up trumps with Alice in Wonderland. We agree and now have $125.
The next question is also difficult:
In what State is the film 'Old Yeller' set?
a. Wyoming
b. Arizona
c. Kansas
d. Texas
We don't really have a clue, so we ask the audience who have to clap and cheer as the answers are read out.
There doesn't seem much in it, but 'Texas' seems the loudest, so India says that. Correct!
We now have a guaranteed $175 and are 3 questions away from a free 7 night cruise!
The next question comes up.
In the animated TV series, which of the following is not one of the Mighty Ducks?
a. Slapshot
b. Grin
c. Another one we can't think of
d. Nosedive
No lifelines left, it's a 4 to 1 shot. We go for 'Grin'. Wrong. It's 'Slapshot'. That's the only one I knew was an ice hockey term, so probably would have been the last one I'd have picked.
Never mind, we had a great time and have ended up $175 richer. We go backstage where we sign a form to say we are not Cast Members and have the $175 added to our stateroom balance. We are also given a 'Who Wants to be a Mousketeer Contestant' pin, which we are told is quite rare and can sometimes be found swapping hands on e-bay for up to $200. Very nice.
We return to our seats to watch the rest of the show.
The last couple on (a father and son) go all the way to the 'cruise' question. (How come I know the answer to most of their questions?)
It is another Mighty Ducks question where you have to name their manager. The answer is 'Phil' but they get it wrong. Shows that nobody must watch the Mighty Ducks.
Tam and I are off to Palo, so the girls decide to have pizza from Pinocchio's and then go to the kids club.
Palo is a much more intimate dining experience than the other large (yet lovely) restaurants.
You sit at your own table in an Italian style restaurant. I would rate this on a par with somewhere like Jiko. The only difference is – this one is free! You only pay $5 each plus gratuity and beverages. With a $30 bottle of wine our bill is still $57, but a great meal.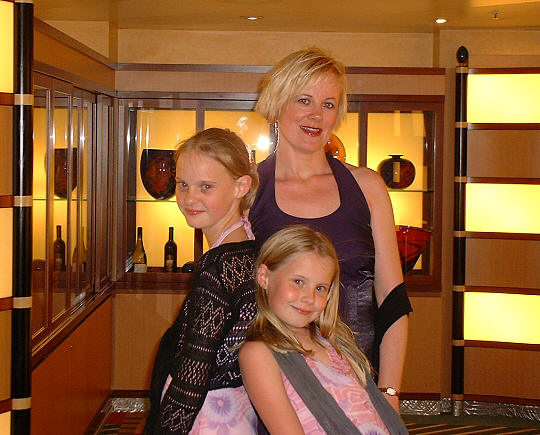 Tam starts with a salad as she's still being a little careful, while I get all adventurous and opt for the calamari. This isn't bad. Not so amazing that I would rush out and have it again quickly, but fine.
For main course Tam has the wild mushroom risotto and I plump for the filet mignon. Both are excellent.
For dessert we have the signature dish of the restaurant, Chocolate Souffle. I'd read so much about this that I was prepared to be disappointed, but I'm not. It really is superb. Just the right blend of spongy chocolate and gooey liquid centre.
Liz from Manchester is our server and she is wonderful too.
Tam and I both agree this is the best overall dining experience on the cruise.
By the way, it's belting down with rain outside and just before we start our meal I glance out of the window to see a couple of bedraggled waifs trying to peer in. What are the parents thinking letting children roam around like that? Hang on, they're ours!
They've been trying to find something to eat as both Pinocchio's and Pluto's are shut, I presume because of the weather. I go out to talk to them and they eventually go to eat with Fred and Natalyn at Parrot Cay.
After our meal Tam and I return to the stateroom to get changed. We find India and Georgia there. Georgia didn't want to go to the kids club and poor India bursts into tears as she really wanted to go and watch them make Flubber. Even though she's a little madam sometimes, Georgia doesn't like to see India upset, so agrees to go in the end. Once actually there, they enjoy it enormously.
Me and Tam go to Rockin' Bar D to watch a comedy magician. Again, first class entertainment.
It's 80's night afterward, but Tam is once again slipping into the arms of Morpheus, so we go back to the stateroom around 11:30 pm.
Quite an eventful day!