DAY 8 - THURSDAY 22ND MAY 2003
We all manage a lie in until 9:00 am.
Today is the first REAL day of our holiday because we have an action packed day planned including formal night and the Disney Dreams show.
Breakfast is in Parrot Cay where Tam and I both have eggs benedict. We are sat with a very nice couple who are also DVC members. They saw the 'Mousketeer' show last night and tell India she was a star. Now hold on a minute, I'm the brains of this operation. The 12 year old better watch herself, she's getting ideas above her station.
The sea is now officially classified as rough with an 8-13 foot swell. The ship is rolling a fair bit and there was a lot of creaking and groaning going on during the night. I thought it was just Tam.
After breakfast the girls go swimming and me and Tam go to the spa for our Surial Bath. We are given robes to change into, then taken into the spa area where all is explained. You go into a room with a seat across the far side. It's about the size of our kitchen, which won't mean much to you if you haven't seen our kitchen, but you're welcome to pop round at any time should you wish to know the size of the Surial Bath ante-room.
Off to your left is the shower and the steam room is to your right. Here there are 3 seated cubicles which provide the steam and shower. Basins in the middle of the room provide cold water and there is a dish with salt and mud in it.
Apparently you 'exfoliate' with the salt first. Does that mean that some time in the past I have 'foliated' without knowing it? There are also many oils and lotions available for just about every part of your body.
Now I realise that the internet gods may well censor some of the following description as it is not suitable for those of a nervous disposition or, indeed, for anyone with any semblance of good taste, but I will do my best to recount what happened in full detail.
Firstly you shower and move through to the steam room where you relax for a while before starting to apply the mud to each other. Let me tell you, that stuff is damn hard to get out of certain places it decides to hide.
After another shower it's time for the oils. Firstly Tam gathered a large handful and XXXXXX it all over my XXXXX while I retaliated by XXXXXXing her XXXX meanwhile keeping a firm grip on the XXXXXXX. Suddenly she decided to XXXXXX. Well, let me tell you, I wasn't taking that lying down, so I XXXXX her XXXX until she XXXXXX with the XXXX using a bucket full of eels and a sumo wrestler!
A once in a lifetime experience I think you'll agree.
Back in the room we meet up with India and Georgia and then go to Parrot Cay for lunch. Today it's a seafood buffet. I can't even start to tell you how many different sorts of seafood are available. Just about every sort shellfish you can think of, sushi, cold fish, hot dishes … the list is endless, as well as the usual stack of desserts. The choice is really bordering on the ridiculous; then again, it's the same at every meal.
We have to rush lunch somewhat as we are off to watch an ice carving demonstration on deck 9. A gentleman from Thailand hacks away at a huge piece of ice and within 15 minutes has produced a beautiful sculpture of 2 fish. Totally amazing.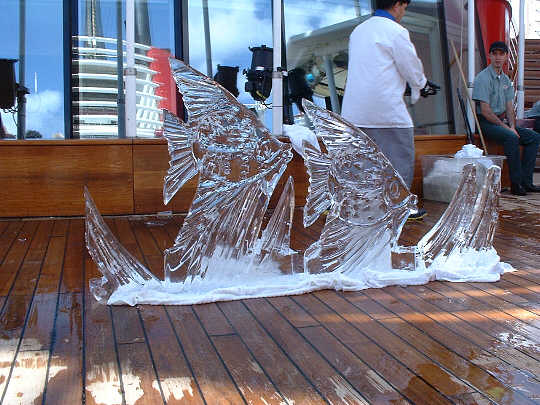 Tam then queues up to get bingo tickets for this afternoon. She hasn't played all week, but today the jackpot (which has been mounting up all week) is guaranteed to go. It's estimated at over $8,000. Mind you, she buys a book of tickets that costs $35!!!!
Oh well, the way our lucks running at the moment you never know what might happen.
At 3:00 pm we go on a 'Behind The Scenes' tour of the galley that serves Lumiere's and Parrot Cay. Very interesting. The kitchens are large, but they have to be as they need to shift 460 main courses in 25 minutes, all cooked fresh. Another interesting fact is that the ship is loaded with all provisions for the full cruise in Port Canaveral as they are not allowed to get anything at any of the other ports they stop at. I'm wondering if they ever run out of beer, but keep the question to myself. I might not like the answer!
Tam and the girls go off to bingo and I find one of the comfortable reclining chairs on the Promenade Deck to write up my trip report and watch and listen to this huge vessel carving its way through the turbulent ocean.
I have to say that the whole cruising experience has grown on me. I think we were all very tired from the first couple of days and the sheer number of people rushing around was daunting at first. However, you slowly find the places to go (and to avoid) to suit you.
It is a unique and humbling experience travelling across hundreds of miles of ocean hardly ever seeing land or even another vessel. Now, if Tam were just to come back with $8,000 we could book another cruise today!
Back in the stateroom, I get ready for the evening and the women return empty handed. Typical. I answer loads of questions to win $175 and they can't even win a simple game of bingo. Tam says the prize was $8,600 and the lady that won it showed very little emotion. Maybe she was shell-shocked.
When we are all ready, we go to the Captain's Cocktail reception in the atrium. It is formal night so I have the tux on again. This is the only night that nearly everyone has made an effort, suits and tuxedos abound.
Much to our pleasure we find that the cocktails are free and enjoy 2 or 3 prior to the show.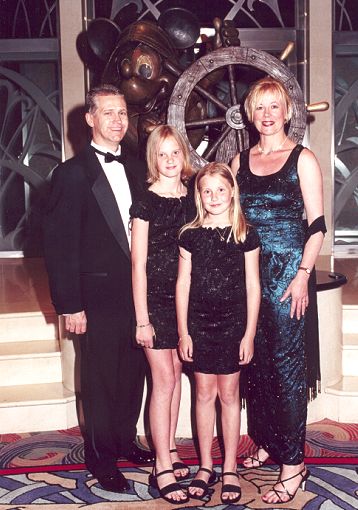 We never did get to meet the Captain. Just as well maybe.
'Ish the Captian! Hey, schmashed into any ischbergs lately?' (Hic!)
'Throw him in the brig!'
We go into the Walt Disney Theatre to watch Disney Dreams.
This starts off slowly and the voice of the woman who plays the little girl that meets Peter Pan is rather irritating. But the pace picks up and, by the end, the show is the most spectacular (and technically challenging) of all the shows we've seen this week. The Lion King section, which has no technical wizardry, just a lead singer and chorus, is excellent.
After the show we roam around for a while shopping and having our picture taken. Because it's formal night the Disney photographers are out in force. There must be 5 or 6 photo opportunity spots set up.
Dinner tonight is in Lumiere's. Liam suggests the lobster tail or the beef tenderloin, but offers a surf and turf combination if we want it. Yes please!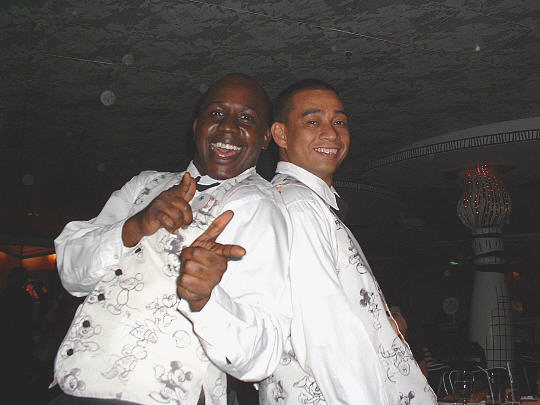 Liam (left) and John
Tam and I start off with the mushroom soup, but find it a bit peppery. I suppose, because of all the pepper, there's not mush-room in there. Har, har … Aw, ferget it.
Talking of jokes, a 5 year old girl told this one at a show the other night.
'Why does Tigger have his head down the toilet?'
'Because he's looking for Pooh!'
Now that's classy. Down there with the best of my jokes.
The lobster and steak combination is up to the usual standard and dessert soon follows. We all have the Chocolate Lava Cake. If we hadn't had the chocolate soufflé at Palo last night, I would have said this was the best dessert yet.
Back to the room to change. The girls go off to play in the arcade while Tam and I go to Rockin' Bar D to watch the comedian and stay for 70's night. We meet up with Fred and Natalyn. Fred gets 'chosen' to take part in the John Travolta competition. Wow! What a mover! I didn't know you do that sort of thing with a white jacket!
When we have stopped laughing we return to the stateroom just after midnight.