DAY 11
FRI 7th JAN 2000
We all sleep in until 8:00. The plan was to relax around the pool but it is a fairly cool morning so we decide to go to Disney MGM Studios for at least a short while. A rest day? No chance with the Stringer family. We do intend to return in the afternoon for a swim though.

Breakfast is in the food court. The food is slightly better here than at the All Star Movies. Not great but certainly reasonable. The surroundings are much prettier though. It is more spacious and more interesting with the water wheel workings and the views over the waterfront.

We arrive at the Studios at 10:00 and head straight for Rock 'n Roller Coaster, which is nearly a walk on. A word about the crowds. After New Year's Eve the crowds dropped off quickly and it is now very quiet in every park, wonderful for seeing everything quickly and easily.
There is no putting it off anymore. Tammy and I clamber into our stretch limo and blast off along the highway. The launch is thrilling and you race along wondering when the first inversion is coming. You are into and out of it before you know what is happening. The rest of the ride is smooth and maybe even slower than I anticipated. One thing I did not expect is that we both came off feeling a little queasy. I suppose I should not be too surprised as this is the first inverted coaster for both of us. A great ride but I would have trouble riding this more than once a day. India decides she would now like to ride but we decide she can do it another day.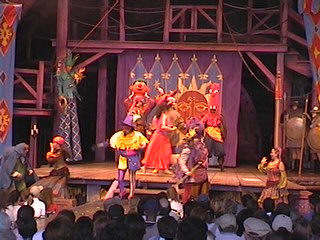 Across the park we take our seats for the Hunchback of Notre Dame. This is a classic Disney attraction. It has to vie with the Festival of the Lion King as the best show on property. The voices are excellent as usual and the puppetry joins in with the live action very well. This is the first time that Grandma has seen this show and she is lost for words afterwards.
Half way through it starts raining hard and is still hammering it down at the end. We wait inside the theatre for 10 minutes and it clears.

Over to Doug Live, another first. Now this must be the first time ever that my children know more about a Disney character than me. The girls really like this, especially India. Although the performances are very good and it is a bright and cheerful show, it all seems slightly strange to me. I mean, what is it with Quailman and the underpants? A little too surreal for me. What is children's television coming to?

Voyage of the Little Mermaid is next. Both Tammy and I think that they have turned down the volume in here. we can barely hear Ariel, who has a weak voice anyway. Maybe Disney have had complaints from parents with frightened children but it spoiled it slightly for us.
Outside in the shop Georgia is going to get the Ariel costume she has been on about for weeks. So what does she buy? An Esmerelda outfit! Women! Oh well, at least she is happy. By the way, these costumes are a complete rip off - $55 for the one we get but Georgia has her Christmas money and is allowed to spend it on whatever she wants. Why she doesn't want a barrel of beer for Daddy I don't know.

While Georgia is choosing her outfit I go over to the Animation Gallery. I have always wanted an animation cel but they seem to have gone up enormously in price. I know that when we first went to WDW you could get a genuine cel from the films for $100 - $150. Now you are talking thousands. You can get hand painted limited edition cels but they are not from the films. Hindsight is a wonderful thing.

We return to the Dixie Landings where we spend a very pleasant couple of hours around the main pool enjoying the hot tub and slide, along with a beer for me and pina coladas for the ladies.

After showers in the room we leave for our meal in the California Grill at 5:55. We just miss a bus and so have a little wait for the next one reaching the Magic Kingdom at 6:30 just in time to see the fireworks as we walk to the monorail. Around to the Polynesian where the girls are going to the Neverland Club. Being a bit of an expert on the Disney kids clubs (ours are off loaded at every opportunity) I would say that this is the best themed of all of them. The girls are sprinkled with pixie dust as they climb through the bedroom window on the way to Neverland. We leave our happy twosome at 6:50 and Tammy, Grandma and I move on to the Contemporary.
We are 20 minutes early for our 7:30 priority seating and so we sit at the bar for a drink while we wait. Within 5 minutes our pager goes off and we are on our way to our table. It really is a lovely restaurant, formal yet relaxed. There is a real mix of people from couples to families with children.
We start with flatbread with salmon and sour cream between us all. The only criticism from the ladies is that it could do with a twist of lemon to compliment the salmon. Both Tammy and Grandma choose the pork tenderloin for their entree while I go for the sea bass. Both the ladies think that their meals are excellent. I am not too sure when I see mine as it has clams and also olives in the rice. The clams are not as bad as I expect and I remove the olives as I find that their strong flavour tends to overpower the fish. Anyway, in the end I really enjoy it.
Dessert is a double lemon souffle shared between the women while I have the chocolate quake with a chocolate snap. Both are excellent. Oh yes, we also had a nice bottle of red wine which was the cheapest on the menu at $28 but fine nonetheless.
This was probably as good an overall dining experience as we have ever had at WDW. It is not a quiet romantic place (Artist Point is probably better for that) but for overall quality, atmosphere and the stunning views, then this place cannot be beaten. It is also nice to eat a reasonable size meal, one that would not feed a small nation for a week. Quality is sometimes better than quantity
We also get to see the Electrical Water Pageant at several places around the Seven Seas Lagoon as well as the fireworks from Epcot at 9:00. Altogether a wonderful experience.

Hey, I bet you didn't know that I would make a good food critic. I will gladly come round to your house to give my valued opinion, I hardly ever eat the soup directly from the bowl and only wipe my face in the tablecloth when there is no napkin. It is perfectly acceptable to use your sleeve in these circumstances as well.

Back at the Neverland Club we pick up the girls at 9:30 at a total cost of $40. A lot of money but sometimes it is nice just to enjoy adult company for a few hours.
Georgia thinks that it is the best kids club she has been to but India still prefers the Cubs Den at the Wilderness Lodge, I suspect this is because they bring animals in for the children to see.
A taxi takes us back to Dixie Landings and we are in bed by 10:30.
A slightly more relaxing day but probably all the more enjoyable for it.