DAY 12
SAT 8th JAN 2000
Up at 8:00, breakfast in the room and off to the Animal Kingdom.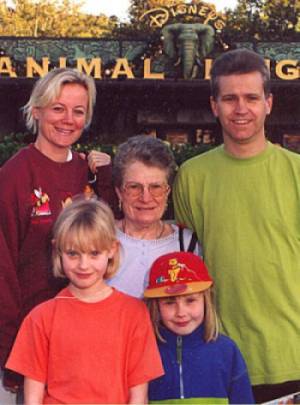 We arrive at 10:00 and go straight to Kilimanjaro Safari's which is only about a 3 minute wait. It is a foggy morning and there are quite a few animals out. One thing I have noticed both times we have ridden - no zebra. Have they gone or did we just miss them?
A brief walk through the Pangani Forest Trail follows. In the bird enclosure we hear a lot of noise and look up to see two fairly large birds ..... er ... mating. India asks if they are fighting! They may have been earlier if they are anything like humans as fighting is often followed by mating.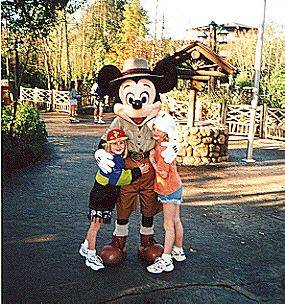 It is still dull as we walk across to Camp Minnie- Mickey for the Pochahontas show. It is packed. This is probably more crowded than it has been in days, maybe because it is a Saturday. The show itself is a bit cutesy. The animals are nice but my main gripe is that Pochahontas is not such a babe as the last time I saw this. I know this is a bit shallow but I am very particular about my Pochahonti.

We hurry across to Festival Of The Lion King and are seated 3 minutes before it starts, perfect timing. This has always been an excellent show but is even better than I remembered. Overall I still prefer Hunchback of Notre Dame, probably because I find the music so stirring.

Lunch is at the Tusker House, I remember Ronnie recommending this. We have the fried chicken, the stew bowl and the chicken salad between us along with beers. The food is very good, Tammy is particularly impressed with the stew. I have noticed something about the restaurants in the Animal Kingdom. They seem to have avoided large areas with loads of tables laid out in rows. Most restaurants have smaller sections with areas leading off them. It is easy to find a quiet and pretty corner to eat in.
The weather has improved and it would be very easy to sit here and enjoy a couple more beers, relaxing in the sunshine and listening to the African band that are playing. Unfortunately the rest of the party have different ideas.

A brisk walk to Dinoland sees us seated and ready for Tarzan Rocks, again arriving just a few minutes before the start. This is better than I thought it would be, high energy and all action. India is particularly impressed. Tammy can have Tarzan if I can have Jane. The fact that neither of them would want either of us does not enter into it. The lovely Jane makes up for the below par Pochahontas.

After the show we leave the park and return to Dixie Landings for an hour around the pool. This time we choose one of the quiet pools. Be warned that this is much colder than the main pool, even the girls don't stay in for long. Another thing, rather than getting a life jacket for Georgia from Guest Services as we did at the All Star Movies, you have to traipse over to the main pool to fetch one and return it to the same location. OK, I have to confess that we kept it in our room for the rest of the trip, but even a saint is naughty now and again. It is absolutely glorious again , pushing 80 with clear blue skies.

We are going to the Grand Floridian for the afternoon tea so we all shower and get ready. This always seems to take longer than anticipated, 4 women, 2 sink units, not a good equation, but we manage to leave the room at 4:50. A bus comes as soon as we reach the bus stop (the buses have been very good this trip, certainly no worse than on previous trips) and we are off to the Magic Kingdom. We get the launch across the seven seas lagoon and it is a lovely trip in the warm sunshine of the late afternoon.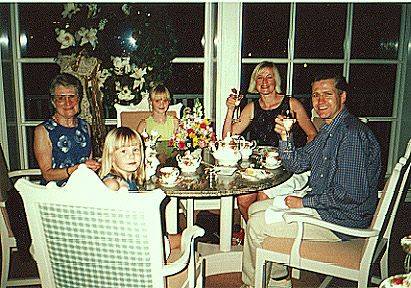 We are seated immediately for our tea in majestic surroundings and our server is Wanda who is very friendly and efficient. Tammy and I both have the Grand Tea while the girls have Belle's Tea (peanut butter and jelly sandwiches, two pastries and chocolate milk.) Tammy and I are first served with a glass of sparkling wine with a strawberry on it, followed by our large pot of tea (Earl Grey) and 4 small sandwiches, no crusts of course. Next is a jam tart (home made with lots of jam) and a scone with jam and cream. Finally we have two pastries, I have a chocolate eclair and a swan shaped cream filled pastry. We all enjoy this very much. It is not cheap, $20 each for the Grand Tea, but it is very good, served wonderfully on beautiful china. There are lovely fresh flowers everywhere and it feels very refined and pleasant. We think that it is worth the money. By the way, the girls have their chocolate milk served in china tea pots so that they can pour their 'tea' as well.

On to the Magic Kingdom for the fireworks and the Main Street Electrical Parade. As we enter the first parade of the night is just starting so we go straight to the station and ride round to Mickey's Toontown Fair where we take the quiet path to Tommorowland. We intend to ride Buzz Lightyear but the wait is too long so we go on the TTA instead. This is much prettier at night and we even see the end of the Main Street Electrical Parade going around the hub. Back towards the castle to watch the fireworks. There is some trouble with the sound and it is late starting. When it does the sound is still not working properly where we are standing and this does lessen the enjoyment a bit. It just shows that you need all the elements in place to get the complete experience.

We move down Main Street (along with half the population of Orlando) to find a place to watch the parade. Most places on the kerbside are already taken, so we position ourselves behind two rubbish bins with about half an hour to go. We let Georgia sit on one bin with India, Grandma and me round one side and Tammy next to the other. We have a fine view down Main Street towards Town Square. Just as the parade starts a lady (?) and her daughter, who must be about 12, push in front of Tam and the woman struggles to lift the girl onto the rubbish bin. Tam is leaning on the bin and tries to make it obvious that she is stood there but the woman takes no notice. Tammy then tells the woman that we have been waiting here half an hour and to please move her daughter. The woman says something to Tammy not in English and ignores her. Now, Tam is generally a reserved and even tempered girl but when she does get riled, look out! She starts to elbow the woman, who shows no sign of moving. I can see things are getting a little hot under the collar, so I tell Tam to swap places with me. I think it may be better to separate the parties concerned as a cat fight on Main Street is probably not the best idea. I don't get that good a view from then on but at least no one has to clean blood off the pavement. I could not say with any certainty that the woman was Brazilian, but she was from South America.
Tammy is still fuming and has trouble enjoying the rest of the parade. The stupid thing is that the girl is perfectly old enough and tall enough to see clearly anyway. Oh well, I suppose there are ignorant, self-centred idiots everywhere.

The parade itself is very impressive, especially Pete's Dragon and the Tribute to America float (why do I think of Sam the Eagle when I write that?) but I prefer Spectromagic. Maybe it was just the circumstances I viewed it in. The woman disappears as soon as it finishes, which is probably just as well as Tammy is looking to scrape the heel of her shoe down her shin and stand on her foot. (And you thought she was such a nice girl, didn't you?)

We leave the Magic Kingdom and get on the bus to Dixie Landings. I get India to sit on my lap to free up a seat for a lady with a young baby. She is from South Africa and we chat away on the journey back. It just goes to show that you meet many more nice people than nasty ones at WDW.