DAY 10 – FRI 16th NOV

wake up at 8:00AM to the sound of the Character Carnival. Unfortunately it is just leaving.
Once up we have breakfast in our luxurious accommodation. Have I said I quite like it yet?
A leisurely stroll across to the International Gateway and we enter at opening time, 10:00AM. The Food and Wine Festival is on today and the first thing I notice is that the 'Bud World' exhibit from last year is missing. Disaster!
We walk down through World Showcase, which is always a pleasure this early in the day as it is not yet open and so is wonderfully quiet.
Our first stop is for Spaceship Earth. This is Granny(J)'s first ride and she enjoys it very much.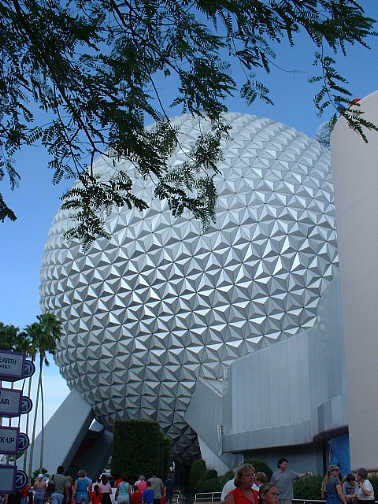 Test Track is closed, so we do Universe of Energy next, followed by Cranium Command. None of us feel like doing Body Wars, so we head across to the Land, but the boat ride has a 45 min queue. We get a Fastpass and move on to Canada to start eating and drinking. Salmon and Cheddar Cheese soup are tried and both get the thumbs up.
We do the Living Seas next before heading back to the Land to use our Fastpasses. This attraction is a big hit with Granny(J).
I have to admit that after this point everything got a bit vague. This is because we start our trek around World Showcase involving much eating and drinking. I have asked everyone's opinions of the highlights from this point on as well, but they seem equally vague. Not that they have any excuse because they were mostly sober!
I DO remember Chicken Satay and Lamb Kabsa. The Kabsa is probably the best value of anything at the Food and Wine Festival, $2 for a decent size portion of very tasty food.
We watch American Vibe, who are very talented, and then see the American Adventure. I am always amazed at how they move those huge audio-animatronic units about.
What happened next? Did pigs fly? Did Tammy buy a beer? No, it can't possibly be anything as drastic as that!
I do recall that we meet Sharon and Evan in front of the American Pavilion (they have been to the Magic Kingdom for the day) and then walk round to the UK to watch the British Invasion. These guys are as much fun as ever and we all have to get up and dance to Twist and Shout. Granny(J) and Grandma(D) are up at the front elbowing youngsters out of the way for some dancing room.
We aim to see Off Kilter next, but they are not playing today. Bummer. (I believe this is an American expression that means 'Oh dear. That's a little disappointing old boy.' See, I'm fluent in two languages.) Never mind. More time for the ladies to acquire Beavertails and me to acquire another beer.
On round to Norway where we meet Sharon's friends, Jim, Lisa and family who have kindly staked out a place for us all to watch Tapestry of Dreams. Unfortunately the parade is cancelled due to the wind.
A word about the weather. Today has been very nice. Clear blue skies all day, but a little breezy. Still, a big improvement on yesterday.
Grandma(D) and I stroll off to find a beer and return to find everyone else off doing things apart from Jim and Lisa who have been left guarding our territory. I think the gun towers and guard dogs are the things that keep the majority of other guests away.
Jim is a part time CM in the Magic Kingdom, so he and I have plenty to talk about.
Eventually the other members of the party return and we all watch Reflections of Earth. This is as spectacular and moving as ever and Granny(J) very much enjoys it. Jim tells me that it is very different from the show he saw on Monday, so they must change it from time to time.
After RoE, Jim, Lisa and family leave us to go home, 5 miles from Epcot. Not that I'm jealous at all!
The rest of us slowly walk round to watch the fountain perform. Well, most of them do. I am busy finding a loo and only return to see the last few seconds. This is one of the very few downsides of drinking beer.
After this we all walk back to the Boardwalk, where Sharon and Evan leave us to return to Coronado Springs.
Oh yes, I nearly forgot. (It's late, I've had a lot of beer, what do you expect?) We attended a wine seminar for the first time. It was a 25 minute presentation on the wine making process and was pretty informative as well as providing a couple of free samples.
Maybe not as good as the 'Bud World' exhibit as you got more freebies there. So I'm cheap and shallow. I'm also merry, tired and going to bed. Goodnight.