DAY 9 – THURS 15th NOV

wake up at 5:30AM. What makes you think we are moving to WDW today?
I have given the ladies an 8:00AM deadline to leave, never believing that we will achieve it. However, at 7:50AM we leave Sanibel. We have had a wonderful time here and I can thoroughly recommend it to anyone.
We drive straight up I75 and then along I4 as fast as the speed limit will allow. One thing I always notice when driving long distances in Florida are the large stretches of uninhabited area. For one of the most densely populated states in America, it is still nowhere near as crowded as the UK.
The drive is uneventful and forgettable, but we make reasonable time and pull into the Boardwalk just over 3 hours after we left.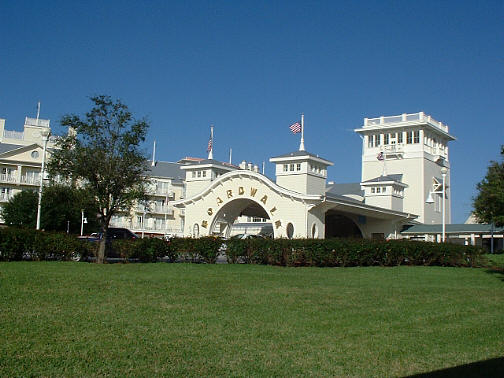 We are met by Bell Services and the car is unpacked for us. The poor man has to give me tickets for 14 pieces of luggage. I give him a $7 tip, but feel a bit stingy, as I know you are supposed to give $1 per bag. I justify this to myself by reasoning that bags full of groceries or the video camera do not really count. Yes, I really am that tight.
Our plan was to have a quick look around and then have a swim at the Yacht and Beach Club. Unfortunately the weather has other ideas. It has been overcast the whole way up and it is now windy and drizzling as well.
We still have a quick look round, but then head to Tubbi's in the Dolphin for lunch. Only burgers and grilled chicken, but it fills a gap.
We head back to the quiet pool at the Boardwalk with the intention of using the hot tub. The quiet pool doesn't live up to its name as that entire section of the Boardwalk Villas is being renovated and there is scaffolding and building workers everywhere. Never mind, we're hardy Brits so it's straight into the tub. At least it is for the ladies, I dangle my feet and write up my trip report. So I'm a big girly.
Actually I'm worse than a girly because my two are in the pool. My excuse is that I have to write this garbage for you lot!
The room is still not ready so we walk along the Boardwalk and around to the Yacht and Beach where we look at the pool and then enter the lobby. Something I should have mentioned earlier is that the Christmas decorations are up and the trees and garlands are really spectacular.
Back to the Boardwalk and our rooms are ready, 3077 & 3079. We enter our room (Granny(J) and Grandma(D) have an adjoining studio) and are blown away. (Don't take this literally. I don't mean a large puff of wind forces us out of the door, merely that we are stunned.) This is very special indeed. There is a living area with a sofa bed for the girls, a small kitchen, a bathroom with walk in shower and the main bedroom with en-suite whirlpool bath.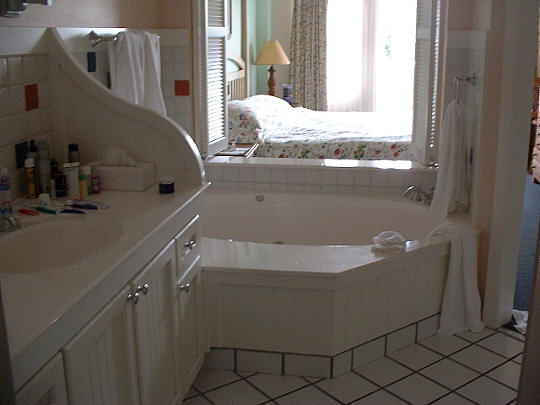 The long balcony has entry doors from both the living room and bedroom. The rooms are tastefully decorated in pastel colours and a light flowery motif. This description does not do it justice by a long way, it is simply stunning.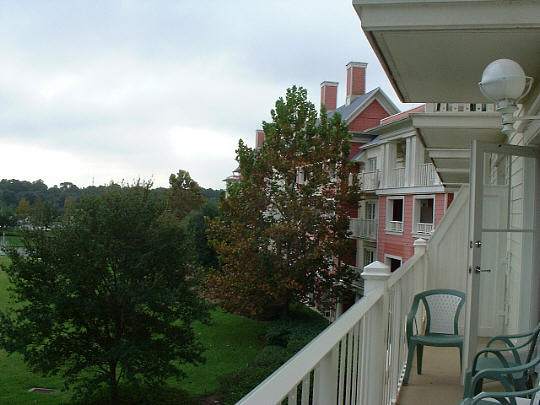 Tam runs around trying out all the gadgets – whirlpool bath, waste disposal, tumble dryer etc. To say we are pleased with our accommodation is an understatement.
By the way, there are workmen in the hall busy laying new carpet, so we will be privileged to be the first to use it this week.
We unpack, try the whirlpool bath (lovely!) and get ready to meet Sharon and Evan.
Sharon is a lady from Texas that I have been corresponding with for about 3 years and we have synchronised our holidays so that we can spend a few days together.
Just before 5:30PM we leave for the bar. Can you think of a better place to meet?
We sit in the lounge at the Boardwalk with a beer and wait for Sharon and Evan. It is filled with old books, old radios, games and lots of other bits and pieces. A very enjoyable place to relax with big, comfy chairs and sofas.
Sharon and Evan arrive and we exchange greetings and presents. We talk for a while and I apologise for intimating that she isn't a lady in my pre-trip report. She graciously accepts although I'm still not sure you can come from Texas and be a lady. Shouldn't you be a 'gal' or something? Oh no! Now I'm going to have to apologise all over again!
Anyway, we are off to Jiko in the Animal Kingdom Lodge, so we first get the boat to MGM Studios and then a bus from there. Tam and Sharon sit chatting on the boat. I'll bet they're talking about me! I get this impression from the occasional glance my way accompanied by a bout of giggles. I can see I'm going to have a hard time with these two over the next few days.
At the Animal Kingdom Lodge we explore for a while. The first thing that you notice as you enter the Lodge is the size of the atrium. It is very reminiscent of the Wilderness Lodge, but with an African theme, of course. Every detail is taken care of in classic Disney style. The furniture is plush and welcoming and the rope bridge overhead draws the eye.
One of the things that I found most visually appealing was the huge window at the end of the atrium that gives the appearance of being covered in vines. This looks great when looking out, but even more stunning when looking in, especially when it's dark and the lighting from inside the Lodge spreads a warming glow.
We walk past the fire pit to the savannah, but all the animals are out of sight until India comes up trumps again and spots a large antelope.
Back inside, Evan wants to spend some time in the shop. Hmm… I can see I need to have a word with the boy.
We make our way to Jiko for our 8:15PM PS. This is a very classy establishment indeed. I had seen photos before, but the real thing is so much better. The lighting is subtle yet strong. I notice that the colours change slowly and ask our server about it. She says that the colours reflect the changing day, sunrise, morning, midday through to sunset.
The service is exceptional and the children have a great time watching the food being prepared in the central ovens and talking to the chef.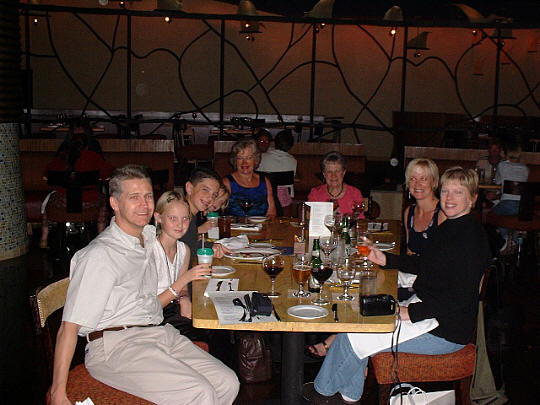 Sharon and I get to chat about many things (mostly Disney, of course) and Evan has fun with the girls. You automatically know when you will get on with someone through regular correspondence. Sharon is exactly as I expected her to be. That's a compliment woman!
The food is of very high quality. I try the Herbcrusted Salmon. Although not entirely to my taste (the flavours are extremely strong) it is nicely presented. Others have the Roasted Chicken and the Pan Roasted Monkfish, which are both good. India has the children's Beef Fillet, which she really likes. Sigh. That's the end of cheap children's meals, she'll be after steak every day now!
Evan has the Fire Roasted Papaya, but he doesn't really care for it. So the waitress replaces it with chicken strips for free. At least he was brave enough to try something different.
The wine is expensive, starting at $8 a glass, but it is very good. I choose a wine and the waitress has only a small amount left in the bottle, so she pours that and then gives me a full new glass from the new bottle. I like this 2 for the price of 1 idea!
Tam has the Cardamom Chocolate Kgetsana (don't even think of asking me to explain what that is!) for dessert and Sharon tries the Apple Crumble. Both are pronounced excellent.
The total bill for the 4 of us is $112, not bad in the circumstances.
Back outside, we again look for the animals, but there are none to be seen. The Cm tells us that they are all back in the trees, but lends us a night lite telescope thing (technical, eh?) so we can see the zebra and antelope grazing in the distance. She does ask us to hold it for the children because it costs $3000!
We say goodbye to Sharon and Evan and arrange to meet them in Epcot tomorrow. Sharon has brought walkie-talkies with her so we can keep in contact. I can see I'm going to have fun with these things. 'Roger, Wing Commander. We're going in. Over.'
A taxi back (big enough for all 6 of us) and we are in the Boardwalk around 11:30PM.
That's better. Back to decent later evenings.