DAY 5
SUN 15th OCT 2000

I wake up at 5:30 again but manage to drop back off to sleep and we all eventually get up at 8:15. A decent nights sleep at last. We had intended to make it in time for Early Entry at the Studios but that has gone by the board.

After breakfast in the room we decide to walk into the Studios along the path by the river. Bad idea. The gate under the bridge is locked (the pathway is not officially open yet) and we have to go over the bridge and back to the Swan to catch the boat. There is a bit of a queue so we head off to the Boardwalk boat dock. As we walk round we see a boat coming across the lagoon, so we run round to catch it. Of course, this one is going to Epcot. Doh! Still, at least we have had a nice couple of mile walk to get the system up and running for the day.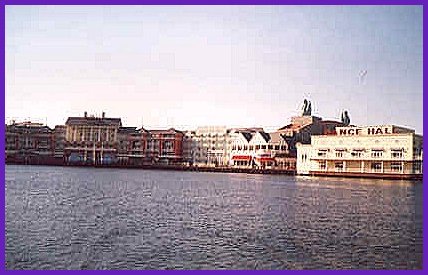 After all our exertions we enjoy a very pleasant ride in the sunshine to the Studios. After buying a 4 day park hopper (we intend to use 3 days this year and keep one for next year) we go in and head straight for Rock 'n Roller Coaster to get a fastpass.

After this we sit and enjoy a drink and ask the girls what they want to do today. We give them the option of staying out all day at the park or returning in the early afternoon for a swim. To our amazement they decide to miss out on the swimming.

We are taking things very easy today and we stroll across to see Muppet 3D. I always find things to laugh at here, especially Beaker who is definitely our favourite.
Back across to Rock 'n Roller Coaster where Tam rides with India while I wait with Georgia, then India comes on with me. I love this ride, especially the launch but it always makes me feel queasy afterwards. Must be some sort of inner ear thing.

A stop is now required at Starring Rolls Bakery for cakes and drinks, which help me to recover.

Over to the Hunchback of Notre Dame which, to me, is the very essence of the Studios. The wonderful songs and skilled cast make this a happy experience every time I see it.
We pass a cart selling all sorts of hats and India buys some Mickey heads on springs while I try on one hat after another as Tam shakes her head sadly at each one.

Next is Voyage of the Little Mermaid for Georgia before we head to Mama Melrose's for our 3:50 Priority Seating. This is a first for us and while not being the finest dining experience on site, is certainly very nice. We start with a Caesar salad (6) - lot's of dressing but a not particularly inspiring salad - Portobello Mushrooms on Polenta with a rich wine sauce (6) - mushrooms a bit overdone. We split an entree of Chicken Marsala, mashed potato with a cheese and chive crust and vegetables (6.5) - bit of a wishy-washy sauce. The girls have kids meals (Georgia doesn't like her hamburger because it tastes of meat!) and we also manage a couple of beers and two glasses of Chianti. The service is OK but could be better. She has to be reminded about the wine and we have nearly finished our food by the time it comes. Total cost $63.58.

Now feeling pretty happy I decide to adjourn to the Tune-In Lounge for an after dinner beer while the ladies go on Star Tours. I get as far as the bar before discovering that Tam has taken all the money and cards with her. Muttering and moaning under my breath I return to Star Tours to meet the women. 'What an unfortunate misunderstanding, how did we possible manage that? Ha Ha.' I tell her. Or words to that effect.

I forgot to mention earlier that Georgia had fallen over and grazed her wrist slightly. A kind lady had given her a plaster but it had now fallen off causing a serious medical emergency. So off we head to the medical centre where the lady attends to us with the required amount of gravity, cleaning and plastering the wound before giving the girls some stickers.

With Georgia now patched up, we now head to Fantasmic! (via the sweet shop for the girls) sitting in the Pochahontas section at 6:00 for the 7:30 show. Ample time to write up the trip report and enjoy a beer or two. The pre-show entertainment is provided by Delman who juggles, clambers on stacked up chairs and generally abuses several memebers of the public. Great fun. Fantasmic! plays to a packed house and is as wonderful as ever. Hardly anyone walks out before the end so we get to see the finale in all its glory.
After the show we wait for a few minutes for the crowd to thin out, then stroll out without much trouble.

At the boat dock there is quite a queue but we get on the second boat within 10 minutes.
India has bought a Fantasmic! tee shirt that is brightly coloured and features all the villains. Me and Ind love it but Tammy threatens to accidentally leave the iron on it for too long when she gets home, India counters by promising to put Disney stickers all over the new fireplace, which is Tammy's pride and joy. 15 all I believe.

The ride back in the boat is nice and allows you to see the Epcot resorts lit up in all their glory. The Swan and Dolphin have never been my favourites but the more you look at them the more you appreciate some of the architectural splendour. Well worth seeing close up.
We are back in the room and asleep by 10:00.