DAY 6
MON 16th OCT 2000

We're all up and about by 7:30. After a quick breakfast the packing begins. This turns out to be pretty painless and by just after 9:00 we are in the car and on our way to Vero Beach. After a couple of wrong turns we manage to get on the 192 which runs all the way to Melbourne. We decide to take the more scenic route because we are in no hurry and it's nice to see a bit more of Florida than the interstate.

From Melbourne we take the A1A and soon arrive at Disney's Vero Beach Resort. As we drive in we are greeted at the gate and directed to check in where a lady earning her ears deals with us in a very friendly and efficient manner. It is 12:00 and our room is already available. It is an Inn room, garden view (No. 2343) on the third floor overlooking the front of the resort. Tam and I both think that it is slightly larger than the Boardwalk Villas studio, except for the balcony. The room itself is again nicely appointed with practically the same layout and facilities.

After we unpack we have a wander round. First impressions. A very beautiful, laid back resort. The colours tend to be muted pastels in keeping with the environment. The beach is virtually non-existent as the tide is right in and the breakers are crashing in dramatically on what is left of the shoreline. You would have to be a good swimmer to be out there today.

The pool area is very nice with a lighthouse themed slide and plenty of sun beds.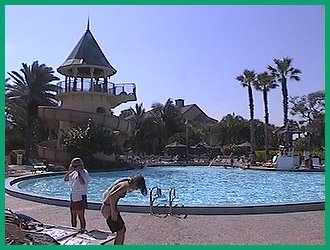 We now decide to go shopping. I know what your thinking - 'He hates shopping doesn't he?' and yes, you're right but I'm working on the basis that if we get it out of the way now then I'm clear for the rest of the holiday.

Off we troop to the Indian River Mall where we have lunch in the food court before splitting up to look around. Neither Tam or I are particularly inspired by this mall, much preferring the Belz mall in Orlando. To my horror I hear myself agreeing to a stop at Belz on the way back to the Boardwalk next week. I can only put this down to temporary holiday insanity. (And the fact that there is a CD or two that I want).

The only thing that we buy is a two piece pyjama set with the Princesses on it for Georgia's birthday in two days time. It is the usual chiffony (is that a word?) type thing but Tammy hates it so that's good enough for me. I'm sure that Georgia will want to wear it all day on her 7th birthday while all around ask 'What's that strange little girl doing in her pyjamas?'
Just down the road from the mall we stop at a Walmart Super Center for some essentials. As we only buy a measly 12 bottles of Miller Lite I wonder how we manage to waste $45 on other frippery such as food etc.

Back to Vero Beach and with the food stowed away we venture through the underpass to the other side of the road to check out the lake.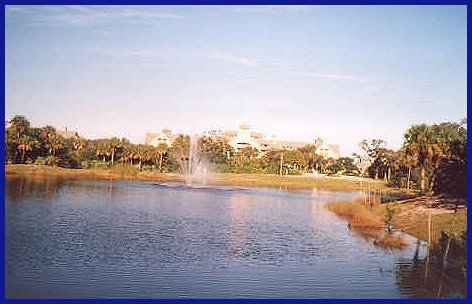 We fancy using the facilities there for a BBQ later in the week but I do notice a couple of mosquitoes the size of Spitfires attempting to land on me, so this might not be such a good idea after all.

Back to the pool where the girls enjoy an hour splashing about and going down the slide until it closes at 6:00. I enjoy a beer, well, 3 actually, while I write up my trip report. This seems to take longer every day. Perhaps I am getting more tedious and verbose as I get older. Do you people realise how much I suffer to bring you this riveting material? Do you care? Are you still awake?

We return to the room for a quick shower before heading off to the campfire at 8:00. The sea sounds even rougher at night and it pounds up the shore as we all congregate around the unlit fire waiting for it to start. There are quite a few people and all the benches are taken. The fire is lit and roars into life a little too quickly for me. I'm wondering whether there is some gas power at work here. The logs are certainly real, maybe I am too used to Disney artificially creating realistic environments.

The evening then takes on a slightly surreal feel as the sing-a-long starts. Now, being British, I do not expect to know all of the songs but by the silence and the looks on the faces of all around, the American guests can't figure out what's going on either. So, we have these two Disney hosts circling the fire singing and gesticulating while we all watch in amazement. I fully expect them to whip out some eye of toad and wing of bat while encouraging us all to get naked. It would have brightened up the evening anyway.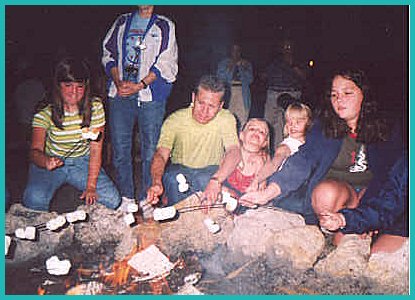 Once this part is out of the way, the marshmallow roast and ingestion thereof is fun and tasty.

Following this pleasant, if strange, experience we go to the Green Cabin Room for drinks a Chicken Pizza (8) and a Chicken Caesar Salad (8). The girls play draughts on the chequered table top with Georgia studying every move in great detail before moving to exactly the wrong place. Somehow the game seems to last about an hour and still ends in a draw.

Back to the room around 10:30 where I watch American Football on TV and ponder on the days events.
One thing I have noticed is that the very high standard Disney resorts are a strange mix of sophistication, elegance, luxury, brashness and unpretention. Don't get me wrong, I find it refreshing that I could as easily be stood next to a bus driver from Bristol as a millionaire from Seattle and both would be equally well catered for.
Isn't this a great place to be?