DAY 11
SAT 21st OCT 2000

Up around 8:00. We decide that we want to do something today but we're not sure what. We look through a guide book of the area that we have picked up and decide to drive to the Busch Wildlife Sanctuary in Jupiter.

We leave at 9:00 and arrive 3 hours later. This is due to a combination of trying to find the place and also taking the more scenic A1A along the coast. The drive back takes half the time on the Interstate.
The sanctuary is quite a small place but costs nothing to get in. It is primarily there to help injured wild animals to recuperate before being released back into the wild. We spend an interesting hour or so looking around at Florida panthers, snakes, bobcats, skunks and all sorts of birds including ospreys and eagles. There is also a small forest trail to walk around.

As we drive back through Jupiter we come across the Jonathan Dickenson State Park. There are big banners out proclaiming that today is the parks 50th birthday and that admission is free. (Normally it costs $3.25 per car.) We enter the park and then drive for about 4 miles until we reach the recreation area. The normal park activities are available including hiking trails, bike trails, canoeing and boat trips. In addition there are all sorts of birthday party happenings, these include people dressed up and re-enacting various parts of Floridian history. There are Seminole Indians, civil War Infantrymen, an 1840's settler and Jonathon Dickinson himself, after who the park is named.

One very interesting thing is the man who is giving an indigo dyeing demonstration. Now I know this sounds as interesting as listening to a double glazing salesman but it is actually very informative. For instance, did you know that indigo was a plantation crop that, at one time was considered on a par with silver and gold? Me neither.
Apparently they would soak the young shoots and leaves of the indigo plant in 40 foot wide baths full of a mixture of water and urine. The resultant concoction was then pulverised and mixed to get air into it before being left to dry out in the sunshine. This produced a foul smell that meant no dwelling could be built within a quarter of a mile. The end product was a block of solid indigo which could then be used to dye clothing, wool etc.
See how educational it can be to read one of my trip reports? Well, if you can't have fun you might as well learn something.

The kiddies area has a selection of small creatures being handled by people. These include a baby alligator, snakes and a tarantula. One little girl lets the tarantula crawl over her hand. Georgia looks on from a safe distance. Spiders and Georgia do not get on well together.

We decide to take a canoe out as it only costs $10 for 2 hours but when we go to pay we are told that we can't all go in one boat. Tammy is not confident at all about going out on her own so we give it a miss. It's a shame because the river area is really beautiful with mangrove swamps and exotically forested areas to paddle round.

One thing that has caught Tammy's attention is a 6 foot long cake in the shape of a crocodile. Around 3:30 they have a ceremony to cut it up and begin to hand out pieces to everyone. Tam is in there, pulling small children out of the way and nudging Grannies to one side. I fully expect her to take a running jump and land with a big splat in the middle of the cake and wallow around in it. Instead she settles for the largest piece she can get. By the way, it is very nice.

A band are just setting up on the stage so we find seats right at the front to watch them.
They kick off with 'Keep Your Hands To Yourself' by the Georgia Satellites, one of my all time favourites, so I sit happily for 20 minutes listening to their set. As Tam says, if only I could have a beer I would be in my element.

We leave the park at 4:30 to start our journey back and encounter the first rain of our holiday. Just a few showers, nothing to get worried about. I would thoroughly recommend a trip to this State Park, we had a great time and there would still be plenty to do even on a normal day. Why not do what we did and pop into the Busch Wildlife Sanctuary while you are there as well?

We get back to Vero Beach around 6:00 and decide on a night in with a couple of videos. We get out Mighty Joe Young and Armageddon as the rentals are free for DVC members.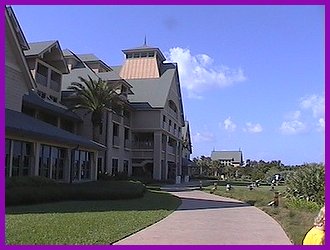 Next a quick trip up the road sees us stock up on beer, coke, popcorn and a 10 piece family meal from Kentucky Fried Chicken.
Back at the room the pig family descend on the food and munch through it faster than a plague of locusts.
We have all seen Mighty Joe Young with the exception of Tammy. The biggest problem is stopping Georgia from blurting out bits of the story before they happen.
Armageddon is next. I had read a lot about this film but never seen it. To my surprise we all thought it was great. OK, so it is as believable as a politician at election time, and some of the clichés are clichés of clichés (don't worry, I didn't understand that last bit myself) but this is an action film first and foremost. The special effects are spectacular and it races along at a cracking pace. Bruce Willis gets to be an All American Hero and the world is a safe place once again. Hey, if you want Hamlet, watch Hamlet. One of the things that does get annoying is the regularity with which foul ups occur. To quote India 'Something goes wrong and then something goes wrong and then something goes wrong and then ....'

I've just realised that you're not getting a lot of WDW related information during the Vero Beach section of this report so I will try and bring it back on topic for you. Georgia was looking a little GOOFY today, she's a CHIP off the old block. We watched a film about outer space which could have included PLUTO and I've just spent one and a half hours of my valuable holiday time writing up this trip report, which really is taking the MICKEY.