DAY 15 - TUESDAY 31ST OCTOBER
This is Halloween, this is Halloween, everybody scream, everybody scream.
Having rolled over and looked at Tam first thing this morning, I nearly did.
We are off to the Magic Kingdom and we are out of the Boardwalk at 9.05am. It's another traumatic experience on the buses for Matt as it takes 50 minutes to get to the Magic Kingdom. He says it would be much quicker by taxi and he wouldn't have to ride with peasants.
We head to Pirates of the Caribbean first and it's a walk on. This is Susan, Deb and Matt's first time on the updated ride and they are impressed. As we come out Jack Sparrow is entertaining a gathering crowd. I've got to say this guy does an excellent job; the voice and mannerisms are spot on.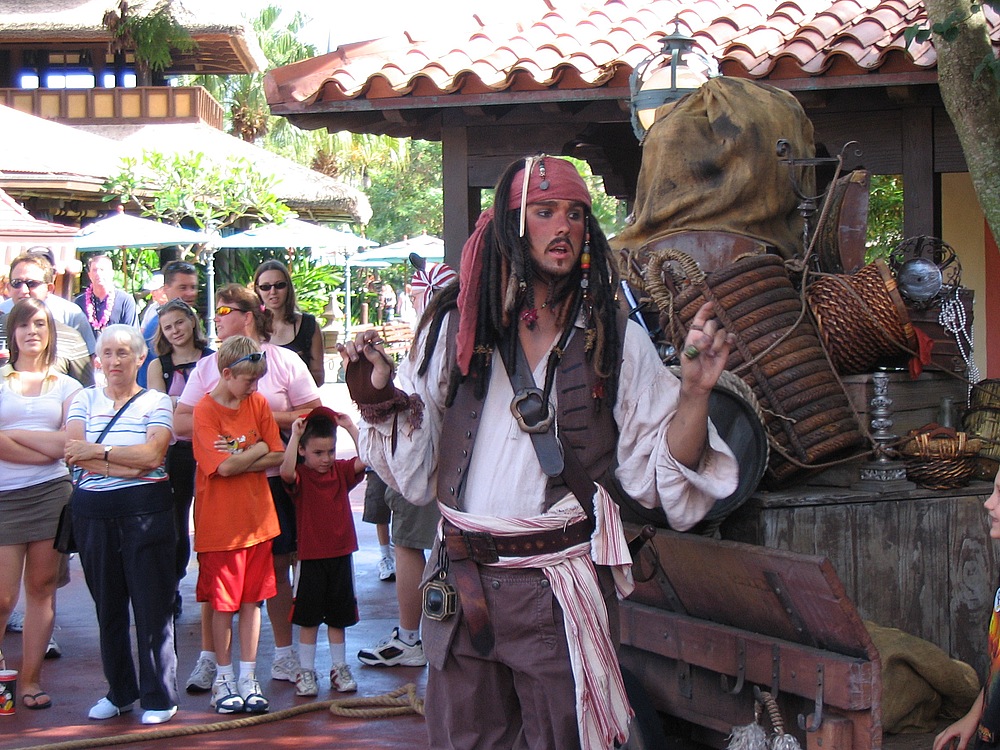 After this we split up with Deb and Matt going off to stroll around while the rest of us are going on a few rides. This is easy to do, as the place is extremely quiet. Whether it's because everyone is waiting for this evening I don't know, but I haven't seen the Magic Kingdom this empty for years.
We ride Big Thunder and are getting ready to ride Splash, but it is down. As we sit on a little wall just by Splash deciding what to do next India and Georgia see a man up on the loading platform for the Walt Disney World Railroad handing out passes. Up we go as we are nothing if not greedy and we are welcomed and told we have won Year of a Million Dreams Fast Passes. These have little break off tags to be used on 9 of the major attractions, valid for today only. It's almost a shame to use them today, as everything is a walk on including Space Mountain. The only thing with any kind of wait is the Jungle Cruise at 20 minutes.
In quick succession we ride Winnie The Pooh, Mickey's Philarmagic, Peter Pan, Haunted Mansion, Jungle Cruise, Space Mountain and Buzz Lightyear.
We then walk back down Main Street to meet up with Deb and Matt in front of the station. We have ridden a huge number of rides in 2 ½ hours and had a great time. Deb and Matt have been shopping as usual, but there are no complaints from me as they have bought me a limited edition pin celebrating the opening of The Nightmare Before Christmas 3D. Thank you muchly.
As we are leaving the Magic Kingdom poor Susan slips off the curb and goes crashing to the floor. Thank goodness she isn't badly hurt as it really was a very nasty fall. She asks that I don't put this in my trip report, but I never do what I'm told, except by Tam if she puts on that really stern voice. As Tam points out, if Susan had knocked out one of her front teeth she would have made a really convincing witch at Halloween tonight.
We leave the Magic Kingdom and catch the little resort launch over to the Grand Floridian where we are having tea in the Garden View Lounge.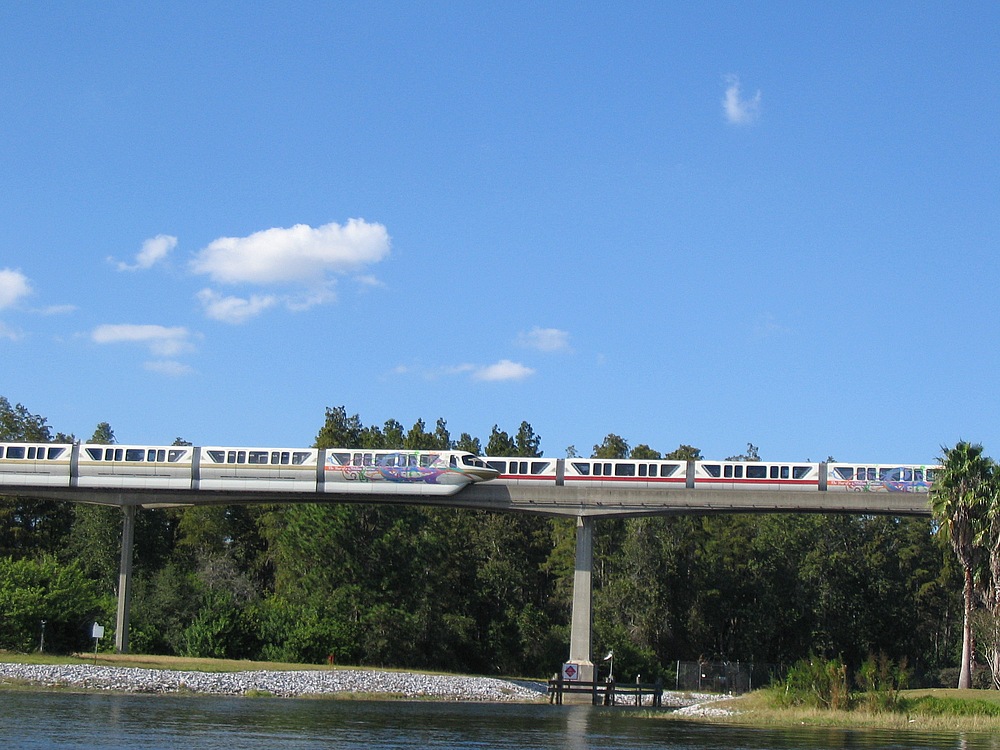 I love travelling on the launch, you see such fun things.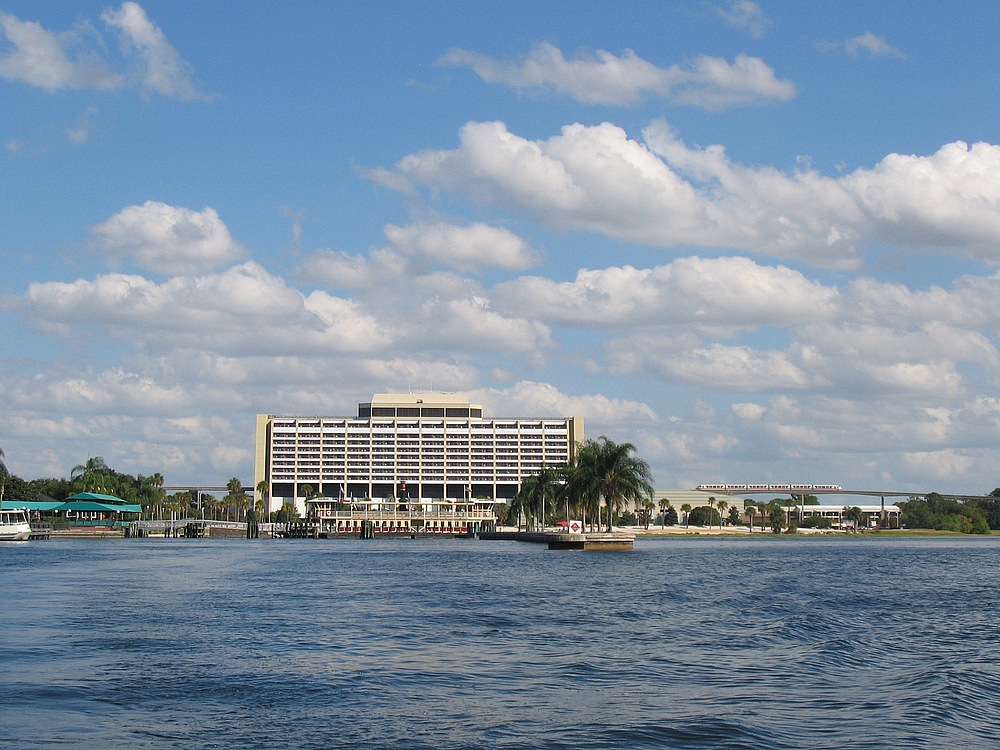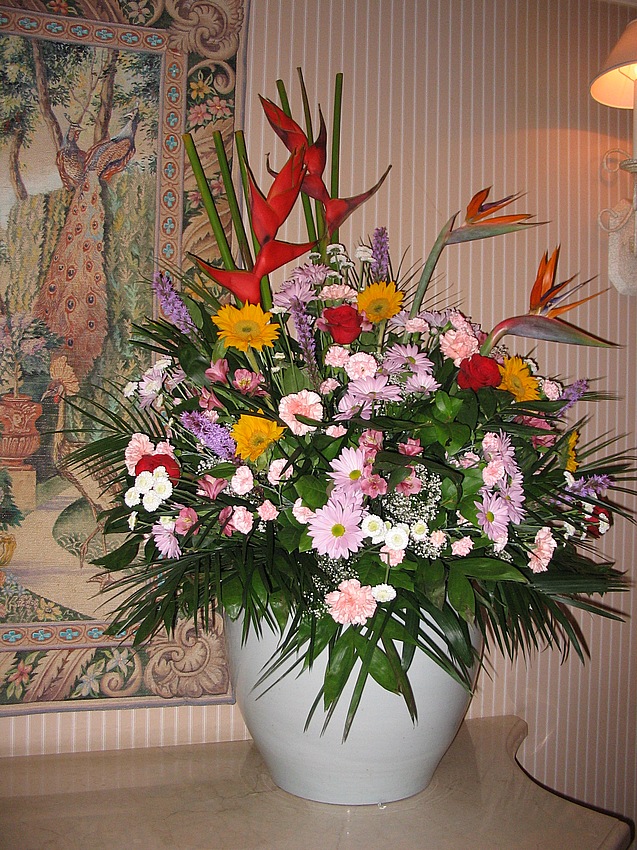 The flowers in the Grand Floridian are always beautiful.
I think we all enjoy the tea, as it's a nice, relaxed way of spending an hour or so after the hustle and bustle of a theme park. There are all sorts of pastries, sandwiches and scones with cream consumed.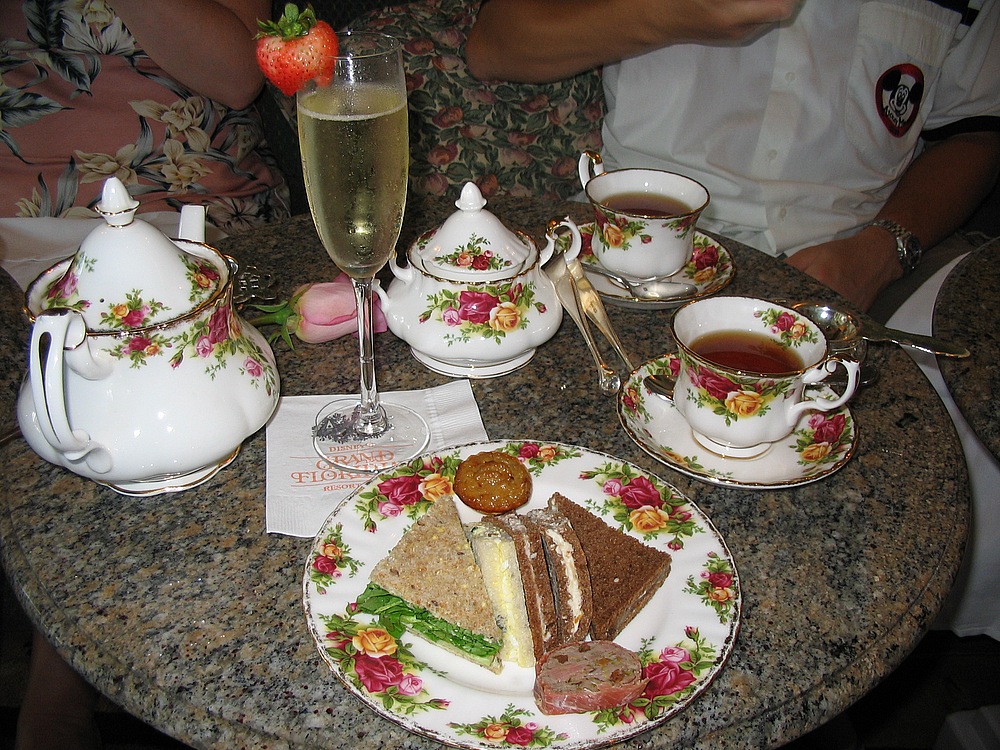 After this we catch the monorail around to the TTC where we transfer to the Epcot monorail. It's quite full and there's an English lady stood up carrying a young child. I offer her my seat and she says 'No thank you. I don't want it on principle'. What principle? I didn't offer it to her because she's a woman. That particular piece of chivalry has been knocked out of me many a year ago, I offered it to her because she was carrying a small child while stood up on a moving monorail. I would have offered my seat to a man carrying a child as well. It's getting to the stage where I may decide to ignore everyone else as long as I have a seat and that would be a sad state of affairs.
We arrive at Epcot and walk through to The Seas where we ride with Susan for the first time.
It's very quiet as we walk through the International Gateway and out to the Boardwalk. Back in the villa we get changed into our Halloween costumes. Tam is Cruella DeVil including wig and black and white high heels she bought off ebay especially for the occasion.
India dyes her hair blue, has fairy wings and a Superman skirt as a sort of Goth fairy.
Georgia is wearing a green Halloween fairy dress that Tam made for her along with fairy wings.
I am wearing a Mr Cruella outfit courtesy of Susan who brought it along for me. It consists of a black robe, Dalmatian print cloak and hat.
Deb is Sinderella including funky wig, while Matt is Fred Flintstone.
Susan is a gypsy fortune teller.
I don't like to brag, but I have to say we look flippin' good.
Out to the Boardwalk just before 7.00pm where we bump into Kaylee, Alan, Sue and Vicki from the DIS and talk for a short while.
There are a few things set up for young children to do on the village green, but we are headed into Epcot. We do very little except wander and drink, before settling down in Japan to watch Reflections of Earth.
Before the show starts me, Deb and Tam walk up to the theatre in front of the American pavilion where the SOS Band are playing. It's not exactly packed, but Deb and Tam are in party mood and are dancing away. They attract rather a lot of attention, not surprisingly; it's not every day you see Cruella and Sinderella dancing together.
After Reflections of Earth finishes they play Promise and then the music from Tapestry of Nations. We are dancing and singing for the best part of the 30 minutes that this takes. A few strange glances are received from passers by at the weird fancy dress Brits having a good time in Epcot.
I've never been to WDW at Halloween before and I thought that many Americans dressed up for the occasion. There certainly weren't any in Epcot tonight. It was incredibly quiet, but I don't think we saw more than half a dozen other people dressed up all night.
Am I glad we made the effort? Yes, I think I am. We stood out like a sore thumb, but we enjoyed ourselves tremendously.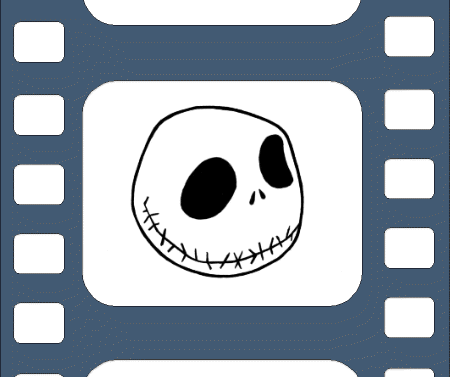 Click on Jack to download a video of our Halloween night fun.
We eventually leave Epcot around 10.00pm entirely alone. The only people we see and talk to are CM's cleaning up or leaving after their nights work. They are really friendly and many of them comment on our attire.
Back at the Boardwalk there is still time for a drink or two. I am lying on the floor in the living room and in a fit of exuberance kick my legs up in the air. This has the unfortunate effect of causing my gown to drop down, revealing my underpants to the gathered masses, who are not particularly enthused about this display. I don't know why, I think I show particular elegance in the undergarment department. It's not as if was wearing my fur lined posing thong.
We all go to bed around 11.30pm. It's been another exceptional day amongst many exceptional days on this holiday.
[OCTOBER 2006 REPORT HOME PAGE]