DAY 16 - WEDNESDAY 1ST NOVEMBER
Tam and I are awake by 7.45am and sneak out of the room leaving the girls asleep. We go to the bakery for a breakfast burrito and cinnamon roll. It's a bit of a shock to find it's raining, but it's only light so it doesn't stop us walking around Crescent Lake with our coffees.
Back in the villa everyone is up apart from Georgia who takes forever to get out of bed and get dressed. Have you ever noticed how young children have a sort of natural slow motion built in when it suits them? You would need to use time-lapse photography to actually detect any movement in Georgia as she puts on her clothes.
Deb and Matt are going to Epcot while the rest of us walk to the Disney MGM Studios. It's still drizzling slightly, but not too bad as we walk alongside the river.
Upon entering we go straight to Lights, Motors, Action for the first show of the day at 10.30am. It's an excellent show, but I think it's a bit like the Indiana Jones Stunt Spectacular in that you wouldn't want to see it too many times as the bits in between while they set up the stunts can get a bit tedious.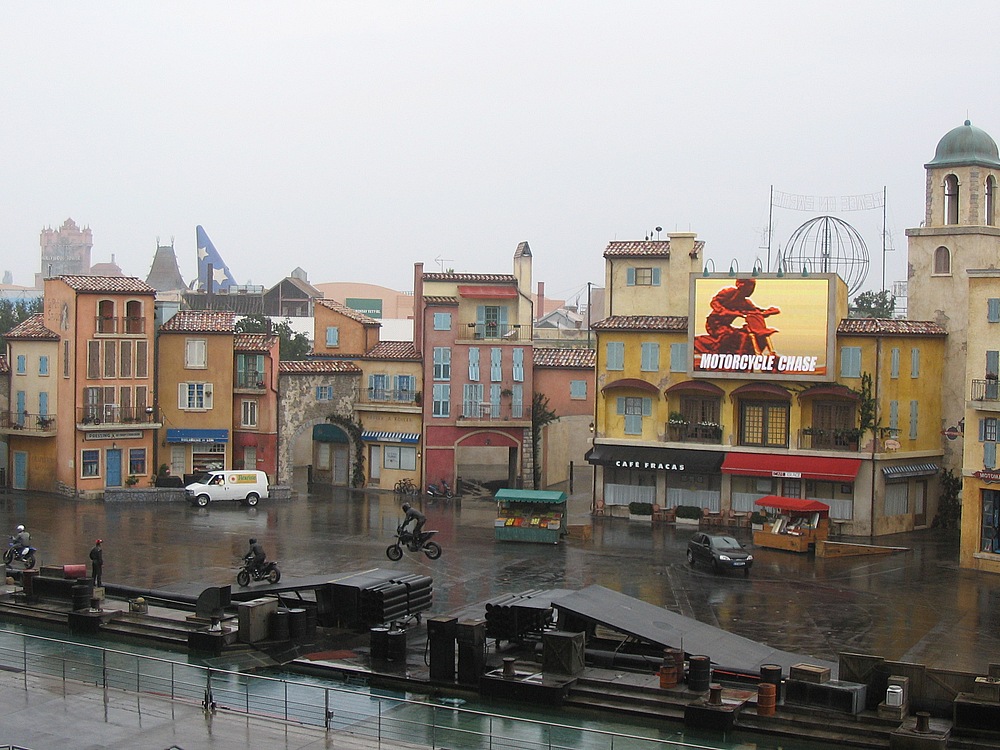 Susan asks whether I prefer this show or the Waterworld show from Universal California. I think Waterworld is better as it is non-stop action from start to finish and has a story of sorts to it.
Next we go to Rock 'n Roller Coaster, which is a walk on and everyone rides. Just before we get on Georgia says her legs are shaking, as this will only be the second time she's ridden it. I'm the other way round; my legs are shaking when we get off. Still, at least I'm not too bad and recover pretty quickly, although the Tower of Terror is definitely out straight afterwards.
Susan and India ride while me, Tam and Georgia go to the villains shop where I buy a villains towel and a Nightmare Before Christmas hoodie. I ask Tam what she thinks of it and she gives me the old 'well, if you really want it….' and makes the sort of face you usually make had you been sprinkled with deer urine from the Bass Pro Shop. Roughly translated means 'I hate it, you look stupid in it, act your age you old fool'. The perfect reason to buy it then.
It's now time to eat and an indication of just how quiet it is today is that we walk up to the podium of the Sci-Fi Dine In at 12.30pm and are seated immediately. Admittedly this is at one of the small tables at the back of the restaurant rather than in a car, but it's still rare to be able to get in here at lunchtime without an ADR.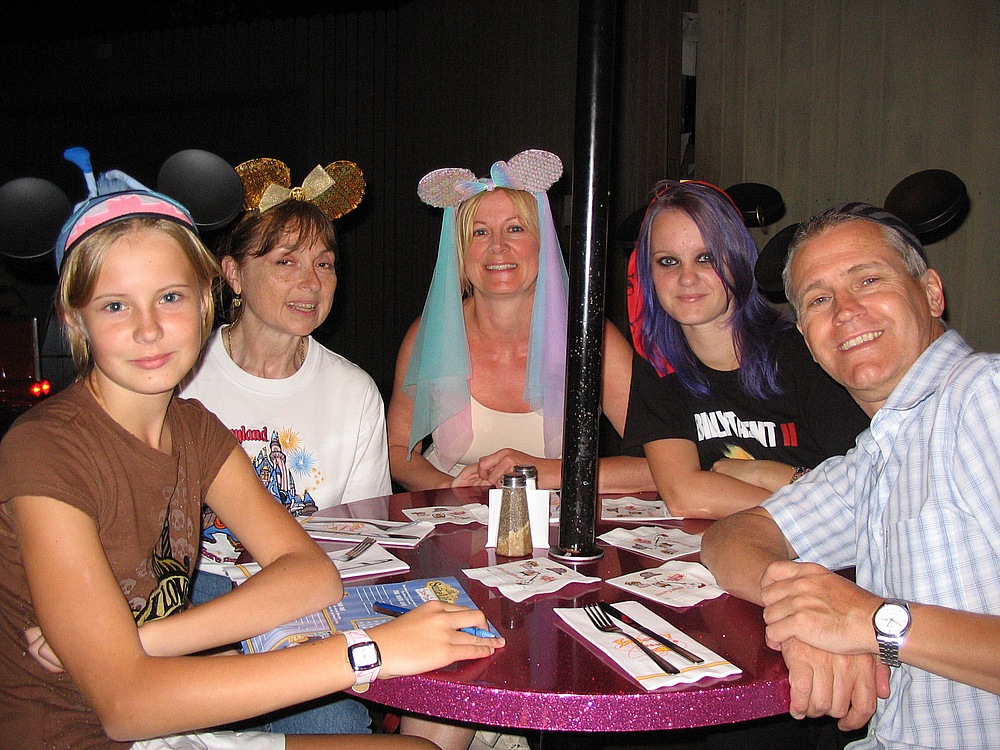 India's hair is still blue from the Halloween celebrations and mine appears to have retained some grey (ahem).
We decide to do the Backlot Tour next and this is quite good fun as none of us have done it for a while. Georgia wants to sit on the left hand side of the tram as she wants a good view of Catastrophe Canyon. She comes to regret this decision as we are in the last car in the tram and she gets pretty wet from the flash flood.
We leave the park at 2.30pm and catch the boat back to the Boardwalk. As we are waiting to board the Friendship boat the captain is feeding the ducks. I thought Disney frowned on this sort of thing, but he obviously does it regularly as he holds out his hand and the ducks take turns to fly up and sit on him while taking the food from his fingers. Ind says it's like the song from Mary Poppins. I agree, but it's been updated. Feed the Ducks, $25 a Bag.
Even when we leave the dock there are two or three ducks sat on the front of the boat. He opens the window and gets two people to come up and feed them while we are going along. It's a fun little moment and it's this sort of thing that adds entertainment to what would otherwise just be a ride in a boat.
Back at the villa we get ready to go to 'Ohana at the Polynesian and get a taxi over at 4.45pm. A drink in the lounge is called for first and various cocktails are sampled. I have a particularly manly blue glowing cocktail.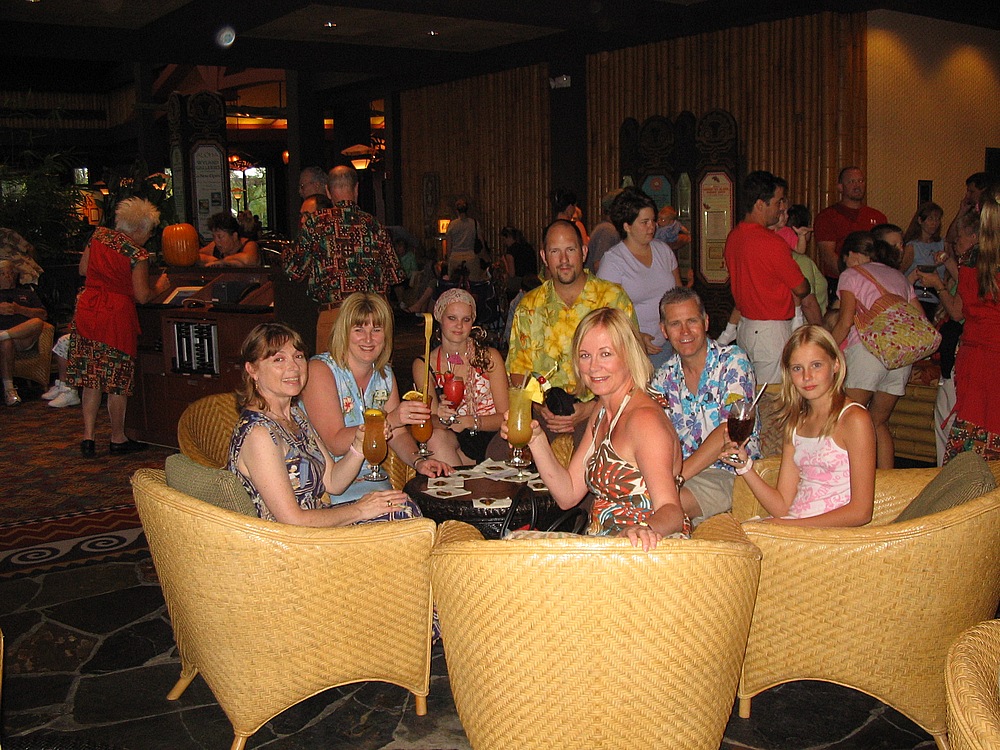 As you can see, we dressed for the occasion.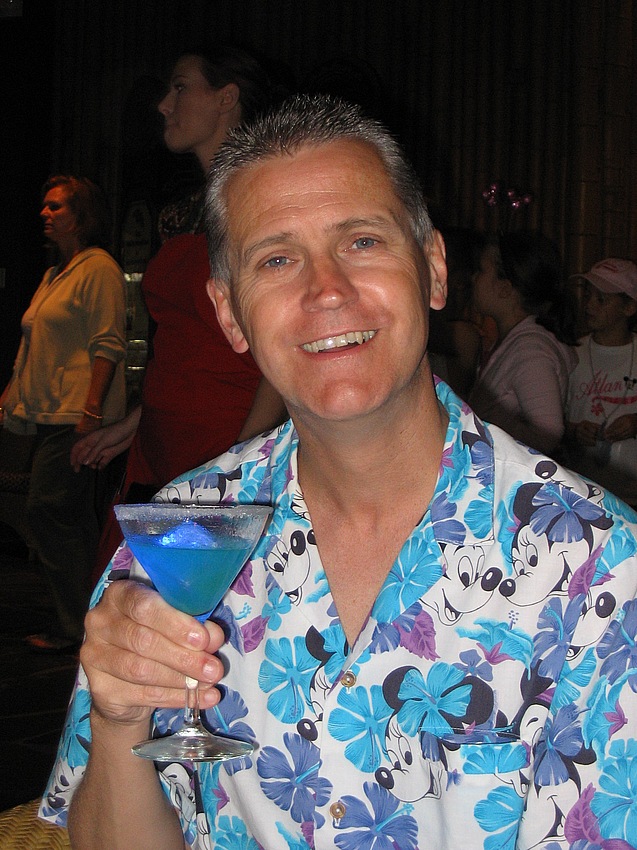 It takes a real man to handle a drink like that!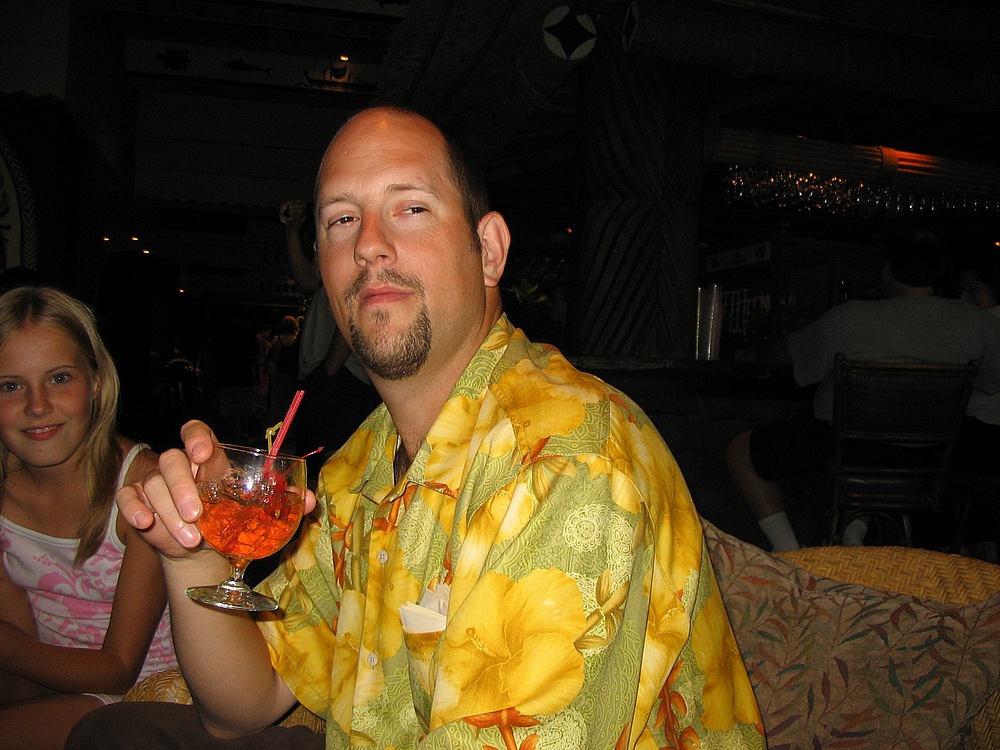 Matt tries the old 'they're not with me' look.
This is the official meal to celebrate Georgia and Susan's recent birthdays and we are seated nearly on time for our 5.35pm ADR.
The menu has changed since we last visited. You used to have a Lazy Susan in the middle of the table. Susan of course objects to this name, perhaps it should be called an indolent Tammy or a laid back Deb. Now you get all the foodstuffs brought straight away including salad, dipping sauces, chips, potatoes, prawns, chicken wings etc. Skewers of beef, pork, sausage and turkey are then brought round. The food itself is ok although the meats are highly seasoned and char-grilled.
As I recall they used to do one or two things for the children such as the coconut race and hoola hoop, but this seems to have expanded as the woman in charge seems to be doing all sorts of activities. Of course, this may be due to our early seating, but it's a bit over the top. I also remember being given a lei when you entered, but this is also missing. It's just as well that Susan has been busy and she has brought lei's for everyone to wear.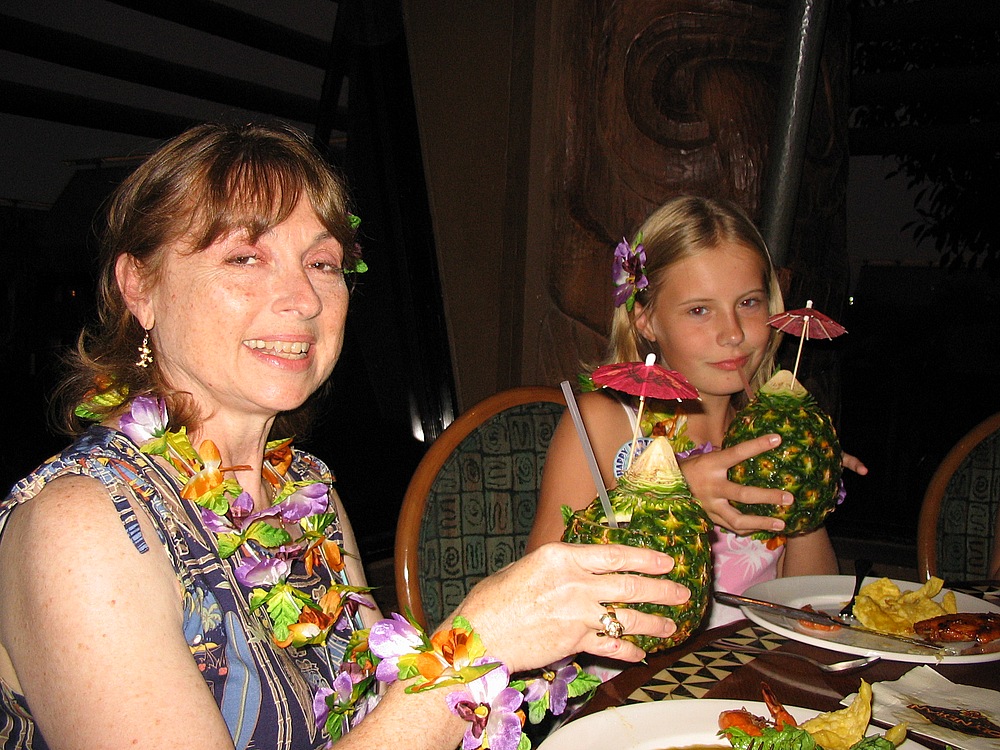 Nice pineapples ladies.
Dessert is now banana bread pudding instead of the previous pineapple and caramel sauce, but the ladies pronounce this to be very good. There probably would have been more eaten were it not for the fact that Tam had arranged for a birthday cake to be delivered for Susan and Georgia and we all sing happy birthday.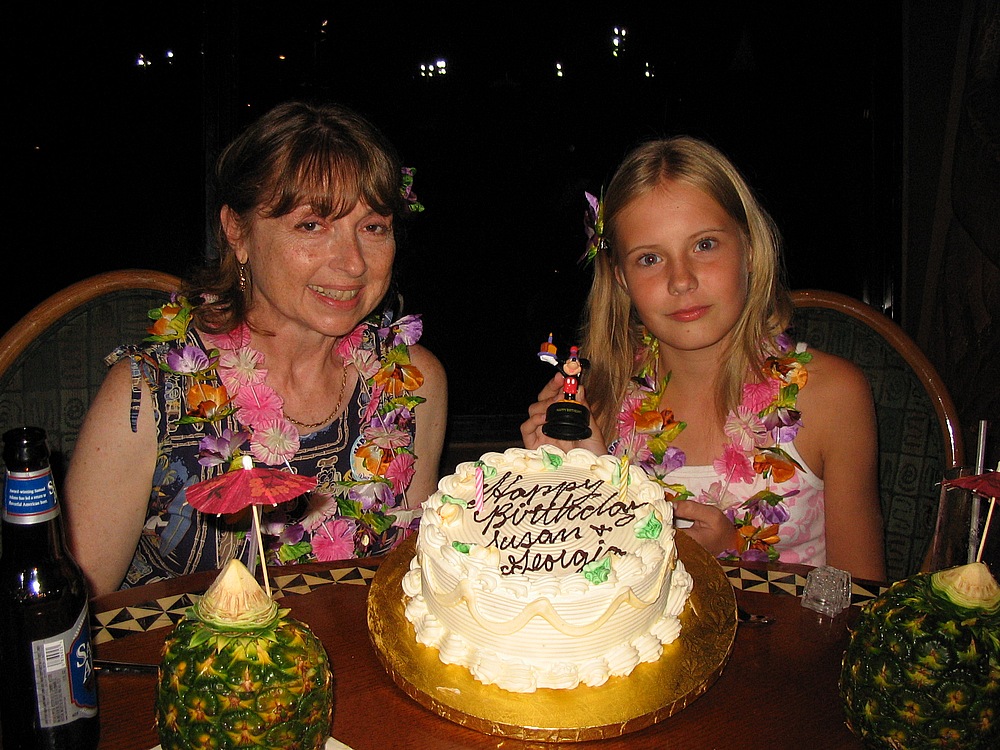 They could almost be sisters.
Another $185 spent (for the Stringers) we catch the monorail round to the Magic Kingdom. We stroll up a relatively quiet Main Street and wait for 10 minutes until Wishes starts. It's still a great display of fireworks and music, although the wind is blowing towards us tonight so there is a lot of smoke about.
Afterwards we wait until the crowds clear before walking down to catch the bus back to the Boardwalk. It takes 30 minutes from exiting the Magic Kingdom to getting off the bus at the Boardwalk. Pretty good going.
Back in the room Matt, Tam and Georgia indulge in a Sudoku competition. There has been much rivalry all night building up to this moment with both Tam and Matt reckoning they will win, there is even a $5 wager on the outcome. The tension mounts as they work away before Tam announces she has finished. The adjudicator (Deb) checks the completed square and Tam is declared the winner. Matt complains that he had nearly finished his puzzle until Deb looks at his form and says he still had 28 numbers to get. Georgia only had 29 remaining! Matt has really shot himself in the foot here, as he has long been prone to calling Tam a dumb blonde when she says or does something silly. Now she can always throw her triumph in the Sudoku competition in his face.
[OCTOBER 2006 REPORT HOME PAGE]