DAY 17 - THURSDAY 2ND NOVEMBER
Up to yet use of the 'h' word, as in 'we're going HOME soon' has been met with a chorus of disapproval from all, but there is no getting away from the inevitable as today is our last full day.
When we rise at 7.45am Susan has already left to spend a day touring on her own and take advantage of the Extra Magic Hour. Deb and Matt are doing the DVC tour and the Stringers are off to Epcot.
It's a pleasantly warm morning with light clouds and patches of blue sky as we stroll round to the International Gateway at 9.00am.
We do Soarin' first (a walk on) before Journey Into Imagination and Mission Space, girly version for all but India. Tam and I then leave the girls for an hour while we do one of the free wine tastings in the building by Innoventions East. If you want to do these you should queue up about half an hour before as they are very popular.
On entering there are rows of seats with 4 to each row. This is a presentation by Domaine Laroche from the Chablis region of France. We get to sample 4 wines and learn some interesting facts such as; the vines are susceptible to frost and must be protected. They do this either by going into the vineyards at 1.00am (don't ask me why 1.00am, that's what the man said) and lighting heaters to keep the frost at bay, or by spraying with a fine mist of water, which freezes on the vine and protects it from the worst of the temperature and wind chill.
Unfortunately I am sat next to a man with a slight hygiene problem. We are asked to smell the wines and see if we get a fruity or oakey nose. All my nose gets is a waft of urine. I'm pretty sure Chablis does not normally smell of wee.
After we have tasted all 4 wines we are asked which we think is the best. Nearly everyone goes for number 4, which turns out to be the cheapest at $10 a bottle.
After the tasting we look around the wines for sale in the Wine Cellar. We purchase a bottle of Merlot at $16.95 purely based on the fact that there is a vintage picture of Marilyn Monroe on the label and the wine is called Norma Jean. Don't tell me I ain't discerning.
We meet back up with the girls who tell us they have just been on Test Track. A little boy behind them in the queuing area had a small lizard in his hand and is going to take it on the ride. I ask them if the lad had his parents with him and they say 'yes'. Once again proving that there are more morons on the face of this planet than I believed possible.
The girls are quite concerned that the lad will get excited on the ride and squeeze the unfortunate reptile to death.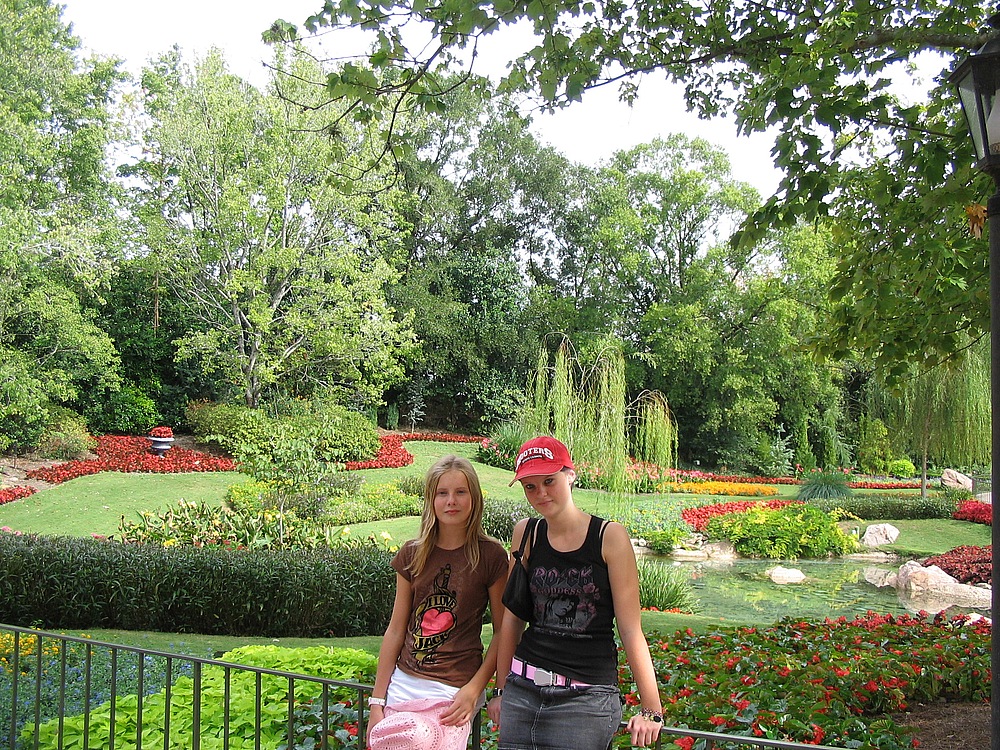 A beautiful view spoiled only by two horrible children.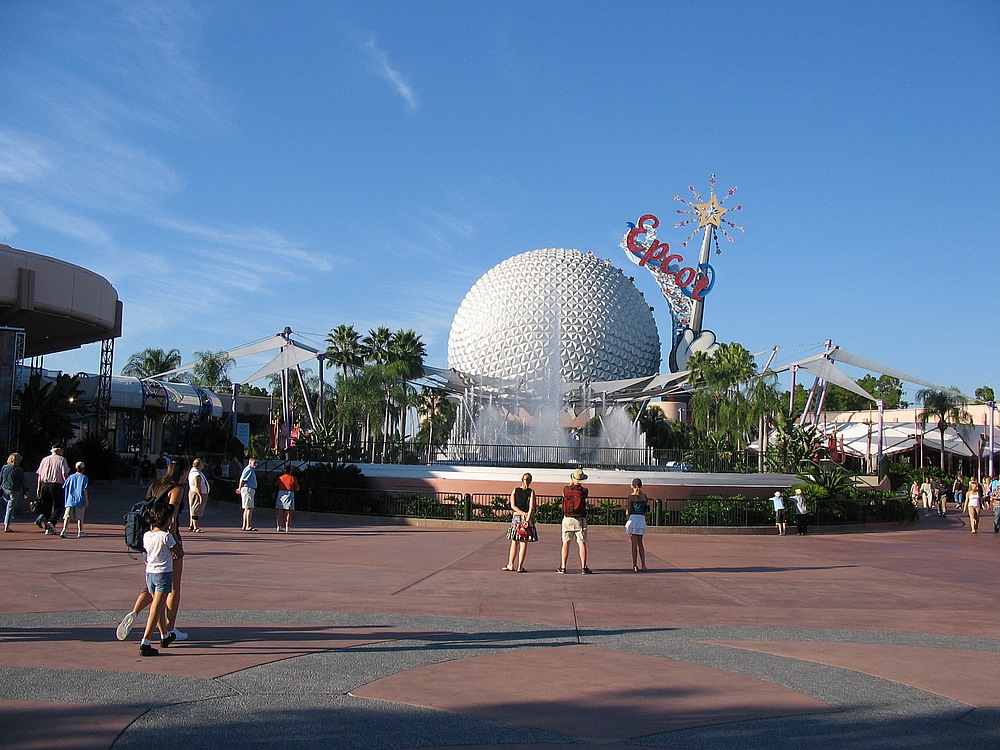 Kev and the girls discuss whether Spaceship Earth really is made of white Toblerone.
Georgia then says she thinks she left her bag in Innoventions. Luckily the CM there has kept it safe for her. At least she has upheld the fine Stringer tradition of losing things on holiday. Good thing it wasn't me, I'd never have heard the end of it.
India has had a spot of good fortune. As she went to buy a frozen banana she was told that it's a Disney magic moment and it's free. It's little gestures like this that mean so much to people.
We now exit the park and meet Deb and Matt for lunch at the ESPN Club. When asked how the DVC tour went Deb says that if they hadn't had to leave to meet us for lunch they would have signed up there and then. Well knock me down with a feather!
They are going back on Sunday to have another look. Will they change their minds? Will this be the day Deb and Matt nearly bought the DVC? Tune in for next weeks thrilling instalment.
The food at the ESPN Club is reasonable and the portions are huge as the 4 of us share 2 burgers and a beef sandwich with cheese. During the meal Matt reaches over the table for something and knocks a beer into tam's lap. The worst thing is, it's Tam's beer! He then proceeds to tell Tam it's her fault for leaving her glass in such an awkward place, before claiming he has done her a favour as there is nothing so attractive to a man as a woman that smells of beer.
After the meal we return to Epcot and just wander and drink. The girls both get Henna tattoos done in Morocco.
Back to the villa where we meet up with Susan who has been to the Magic Kingdom for the day. We shower and change and enjoy a glass of Norma Jean's finest Merlot on the balcony before going down to the Belle Vue Lounge at 6.00pm. Here we meet up with Kaylee, Alan, the baby Joseph, Sue and Vicki from the UK DIS boards.
We pass a pleasant hour chatting and catching up on who has been doing what. They have all recently arrived and we are going home tomorrow. The world is a cruel and dark place.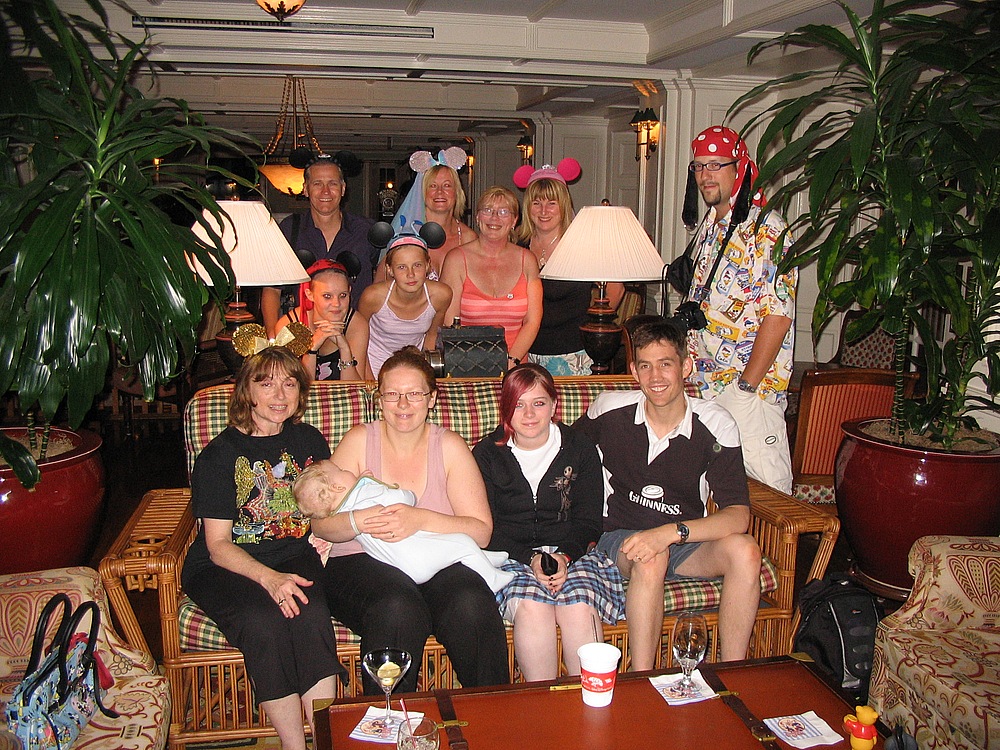 What's the collective noun for a bunch of Disser's?
Saying farewell to the DIS clan we walk into Epcot around 7.00pm. I have forgotten to mention that tonight is silly hat wearing evening and we all have different headwear. Mine is a Jack Skellington hat with ears, Georgia has Stitch, India has a red pirate bandana, Tam has Princess ears with veil, Deb has Princess ears with a tiara, Susan has gold 50th anniversary ears and Matt sports a bandana with Goofy ears and earrings. He wears this with all the enthusiasm of a man going to the gallows.
Susan and Georgia have hatched a plan for our own dessert buffet come second birthday celebration, so they go to France to buy all sorts of pastries. We walk round to Norway to take up our favourite spot and Susan breaks out a 'happy birthday' banner, which gets draped along the railings. Beer and wine are purchased and we sit/stand and enjoy our own little buffet before Reflections of Earth.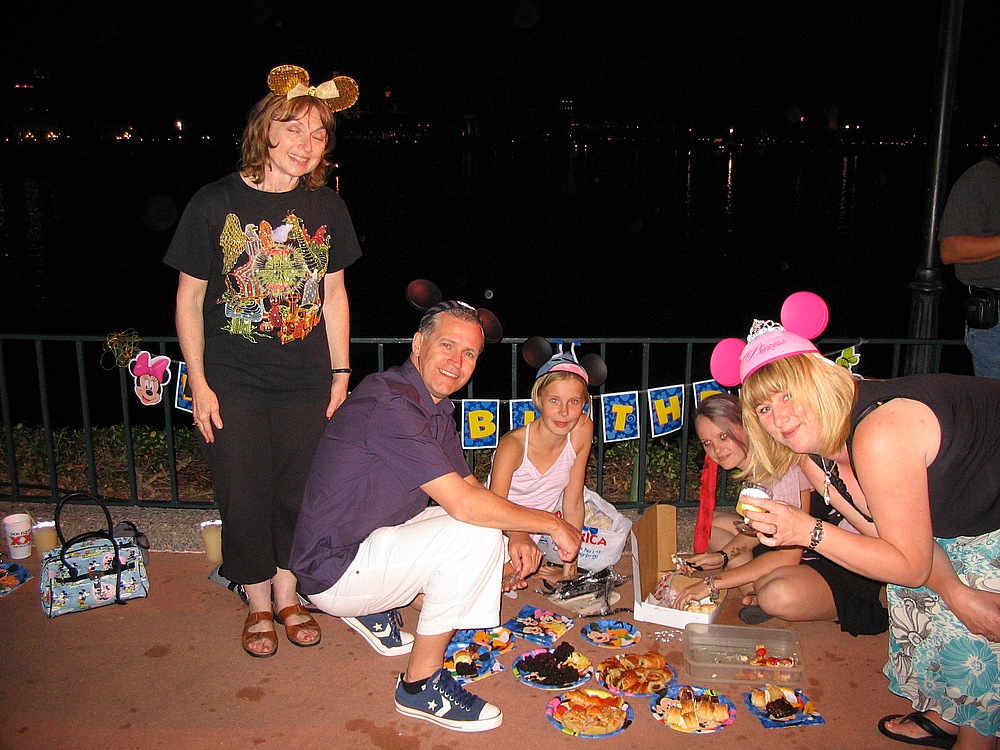 It's always a bitter sweet moment when the last firework explodes as it signals the beginning of the end of the holiday. Once again we wait until nearly everyone has gone, singing to Promise and Tapestry of Nations.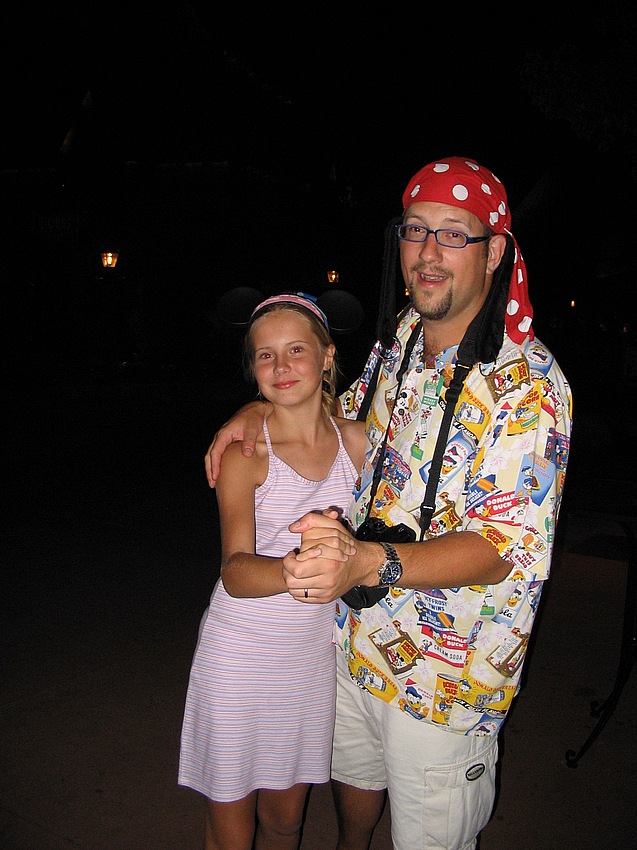 Matt displays hitherto unknown dancing prowess.
We then walk down to Mousegear for a final look around and I buy a coffee cup for work. This is mainly chosen for its size as it's just about the only one that's not as big as a bucket. Americans sure do like their coffee.
We now walk slowly up to the International Gateway, I really do believe we are the only guests left at this time as it's now 10.45pm.
Back at the Boardwalk slices of pizza are bought from the Spoodles takeaway window and we head back to the room. I'm afraid I don't remember much about the rest of the evening as I have imbibed a few refreshing alcoholic beverages or, as Matt put it, 'You were hammered mate'.
Apparently I threatened to reveal my underpants to one and all again, before falling asleep on the sofa. Oh the shame of it all.
[OCTOBER 2006 REPORT HOME PAGE]