DAY 13
MON 23rd OCT 2000

Up at 7:00 to begin packing. We are returning to WDW today and Tam wants to stop at the Belz Mall on the way through, hence her keenness for an early start. We have had breakfast and are in the car by 9:00.
It is sad to be leaving Vero Beach but I am looking forward to being back in WDW even more. This time we take the direct route up I95 with Tammy cursing every car that passes us, after all they might be going shopping. We don't want one more person in front of us at the check out now do we?

The drive is uneventful and we are in the car park at Belz by 11:00. Now I have to be honest here and confess that the shopping goes less painfully than I expect. (I know, I know, I'm shocked too!) By far our biggest outlay is on CD's. I manage to lay my grubby little mitts on CD's by Green Day, The Violent Femmes and Barenaked Ladies. Tam buys a greatest hits album by Roxette. Yes, I did try to talk her out of it, but, what can I say, she's musically challenged.
Georgia buys a Christina Aguillera (sp?) CD which shows how she is growing up. This time last year it would have been the Teletubbies or something similar. According to Georgia Christina Aguillera is 'cool' and 'ex'.
India is looking for the Fantasmic! CD but can't find it. She'll have to get it in Epcot tomorrow. We have lunch in the mall and much to my amazement we are back in the car by 1:30. I can hardly believe it but wisely keep my big mouth shut for fear that Tammy might change her mind, decide it's only half time and rush back in for the another go.

Off to Goodings for a few bits and pieces and cookies and sweets for work colleagues

On to the Boardwalk Villas where we check in at 2:30 and our room is ready! This time we have a preferred view room number 3064, on the third floor, just 2 rooms from the elevators. Our balcony overlooks the main pool and also gives a lovely view of the Swan.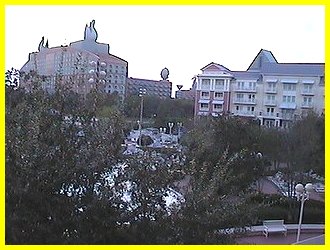 I could not be happier. Much as I have enjoyed Vero Beach, I really feel like I have come home. We even had a 'Welcome home' from the lady at check in.

We unpack quickly and take a walk around. as we leave the room we turn left to follow the corridor along to the end as I have read a lot of people complaining about the distance from the elevators to the farthest rooms. They are not wrong as we have to walk quite a way to the end. Here we find a place called the Attic Lounge (or it may have been Room.) The doors are shut but I try one and it opens so in we go. The room is lovely with comfy chairs and sofas all over the place and large windows giving a panoramic view over the Boardwalk. Outside is a patio (directly above Jellyrolls) and we take a couple of photos. As we leave the Attic Lounge there is a CM coming along with a trolley loaded with drink. I am starting to think that this is not a guest area.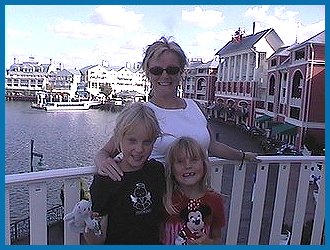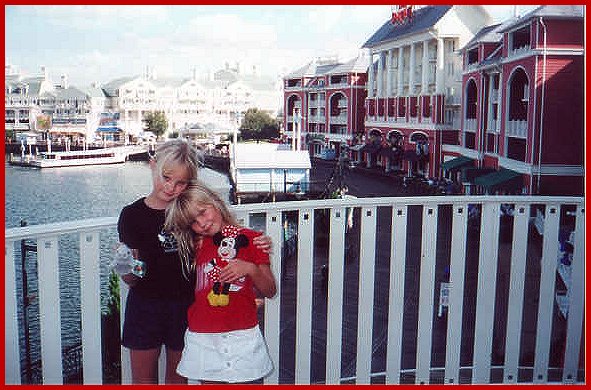 Back at Guest Services I ask about this room and am told that it is only for private parties, convention groups etc. Oh dear. Never mind, at least I have seen something that most guests never get to see. If you get the chance to have a peek inside then take it as it really is beautiful.

We wander along the Boardwalk and go into the DVC presentation area where we ask to see our DVC guide Bobby. He is not working until Wednesday so perhaps we will see him then. While there we ask to see around a 2 bedroom unit (which is really a 1 bedroom plus studio) to see what our accommodation will be like next year. Wow, it really is spectacular. I haven't finished this years holiday and I'm already looking forward to next year.

The main pool is next where a beer is purchased for me along with a vodka and citrus cocktail for Tam and drinks for the girls. With tip it comes to $13. Oh well, we are celebrating our return home. We walk around to the quiet pool with our drinks and I sit and write up the trip report while the girls enjoy a late afternoon dip.

Back in the room the girls have a shower and Tam and I enjoy a beer on the balcony. It's one of those very special times when you are so relaxed and at ease that all seems right with the world. The view is lovely and the sounds of people enjoying themselves in the pool seems to fit in perfectly with the moment.
All too soon the girls are done and it's time for us to get ready. To give Tammy her due, she has been in commando mode when it comes to getting ready for the evening on this holiday. By that I mean that it takes her half an hour to get ready rather than the usual interminable length of time. England could lose a Test Match in the same time it takes her to apply makeup. (Cricket, for my American friends.) Mind you, why should I complain, it gives me time for another beer.

Tam asks if I'm turning into an alcoholic. (Jokingly!) No, I'm just on holiday and relaxing. I employ the classic Stringer counter 'Well, are you becoming a food-a-holic?) Humorous, eh? By the look of her stomach she is definitely ahead on points. (Ducks as empty beer bottle misses head by inches.)

We are off to the Kona Cafe in the Polynesian so we catch the bus to the Magic Kingdom. As it draws up at 7:00 the park is just closing for the day. As we walk past the gates on the way to the monorail I get a sort of tingle that makes me feel I am where I belong. I ask Tammy if she feels the same and she says 'No, it doesn't feel that long since we were last here.' That's the difference between us, Tam likes it, I love it.
I don't even want to go in particularly, just being around makes me feel good.

We get the monorail round to the Poly. There is quite a variation in the dress of the people on board as some are leaving the park after a long day while others are dressed up for an evening meal at one of the resort restaurants. At the Poly we are seated at the Kona Cafe within 5 minutes of arrival. We start with Prawn and Shrimp Potstickers (8.5). Our entrees are Beef Teriyaki with Sticky Rice (6 - too spicy) and Herb Crusted Chicken with Parmesan Mash (8.0). The girls share a kids ice cream cone with M&M's on top. Total is $68. The food is of good quality but just not quite to our taste, a little over spicey.

The Poly is a lovely place at night with all the flowing water and vegetation. We go outside but unfortunately the main dock and pool area are being refurbished. Also the flaming torches are not working, which makes it a little difficult to get around.
Down on the beach we watch the Electrical Water Pageant. There are one or two other people watching but that's all, so when a large round of applause breaks out when it's finished I look around to see what's going on. I hadn't noticed all the people sat on their balconies overlooking the Seven Seas Lagoon. Now that is some view.

We get a taxi back ($13 with tip) and are in bed by 10:30.