DAY 14
TUES 24th OCT 2000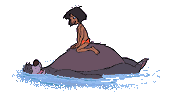 Yippee! Epcot today. It is early entry so we wake up at 7:00 when Georgia crawls into bed with us, as she has done for much of the holiday. She says 'I love you daddy' and when asked why says 'Because you're pretty.' PRETTY! PRETTY! Now there are many things a man might like to be but 'pretty' is not one of them. When told this she says 'OK, because you like villains.' Ah, now there's a reason to be proud.

We enter Epcot via the International Gateway at just after 8:00.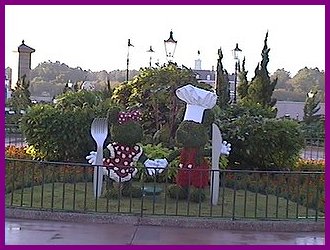 It's very nice strolling through an empty World Showcase (it doesn't open until 11:00). We pass all the stalls for the Food and Wine Festival which have Tammy hungry already.

On to Test Track where we pick up Fast Passes before riding Spaceship Earth. Tammy is thinking ahead to next year when her mother will be with us and wondering how she will like it as she is slightly claustrophobic.

We intend to do the Universe of Energy next but hear the cars running on Test Track so decide to get in the standby line. Sure enough, at 9:00 it opens and in we go. We wait about half an hour and then the ride breaks down half way through. I thought that maybe they would let us stay on to ride again but, no, we are made to get out. I might have made more of a fuss but we still have our Fast Passes left so I let it ride. (Or not ride, if you see what I mean.)

Over to the Universe of Energy where I can't help pondering on what a strange threesome Ellen, Jamie Lee Curtis and Albert Einstein would make. All the bases covered there, I think.

Back to test Track which goes smoothly this time. We all think this ride is great. I know some people don't think that it is as thrilling as it might be but it's fine by us. I always tend to look at the technology behind the ride and am amazed at how this manages to function at all.

The Living Seas is something that we have not done for a few years but India wants to see the Manatees. These creatures are so graceful and I'm always amused by their expressions which seem to be a mix of gloominess and resignation. As Tammy says, Eeyore without the legs. Their bulk is incredible and I can't help thinking that a few people I see around the park would not look out of place in this tank.

It is now 12:00 and the frustration is starting to well up inside of Tam. All that food out there and time is slipping by. We begin an anti clockwise stroll around World Showcase to sample the food and drink. Be warned that the samples that you try at the food booths are very small and, although relatively cheap at $2 or $3 each, this soon adds up. The wine samples for $2 are ridiculously tiny, barely a couple of mouthfuls. One good thing is that you can get the recipe cards for anything you try.

Rather than try and list the items we eat in chronological order I will just put them all down in one go.

Greece: Pork Souvlaki with Pitta and Minty Sauce (8.5), small Athena beer (8.0) and Baklava (9.0). Total $7.

Chocolate booth: Chocolate Strawberries (9.0) $1.50.

Canada: Maple Fudge (9.0 - tiny portion), Cheddar Soup (10), Schone Maple Pale Ale (4.0) a strange sort of maple urine flavour. Weird, but it sort of grew on me, perhaps I should have been a sailor. Total $5.00.

Mediterranean: Lamb Kabsa (10), Efes beer (5.0).

United States: BBQ Chicken Sandwich (6.0), Clam Chowder (6.52). Total $4.75. The children have Chicken and Fries from the normal counter service restaurant and Tam and I split a large Bud (9.5).

Australia: Lamingtons - a sort of sponge covered in chocolate (6.34), Black Opal Shiraz (8.57). Total $4.50.

Southeast Asia: Chicken Satay (8.54) $3.50.

You have noticed that, as the day wore on and the beer started to take effect, the marking got a bit out of hand. However I can assure you that it was all done using highly scientific and well proven principles. If you don't believe me, buy me a beer and I will explain it all to you in great detail.

Back to the details of the day.
In Canada we watch the film. This is Tammy's favourite which just goes to show that she does have a Disney heart after all.
The girls are both starting to get a bit grumpy so we agree to take them back for a swim. Unfortunately for them, at the International Gateway they have the World of Beers and a presentation by Budweiser called Bud World. Sorry, but this opportunity is too good to miss.
The Bud World thing is obviously one big advert for Budweiser but is also very interesting and informative as we first watch a couple of short films about the history of Budweiser before a talk about the brewing process from a brewmaster. (Along with tasting as well).
At the end there is a spot quiz on the five ingredients of Budweiser and muggins here gets chosen to do it. Showing stunning recall and staggering intelligence, I get all five. Nothing to do with the fact that 3 of the 5 ingredients are on the table in front of us of course. In case you're interested they are malt barley, yeast, rice, water and hops.

After this entertaining half hour we stagger out slightly squiffy and get on the boat back to the Boardwalk. It is now 3:00 and Tam and I take turns to have showers while the girls finally get to have a swim.

Back into Epcot at 4:00 and the first stop is at the World of Beers where I try a Sunny Beaches (Indian beer 6.0) and Tam has a Cider Jack Raspberry (8.75).
We wander around and nibble here and there and watch various things including a demonstration on cooking Escargot, preparing Sushi and the end of the Cookin' show in the American Gardens Theatre.

We watch the first Tapestry of Nations from France and then move on to the UK to watch the British Invasion. This brings back memories of New Years Eve and Georgia joins in with Hey Jude. At the end we all get up to the front to Twist and Shout.

We start our trek back round World Showcase to find a spot to watch the second Tapestry of Nations and Reflections of Earth. This proves to be easier said than done as many of the prime locations, including our favourite spot in front of Italy, are roped off. When I ask what for, I am told it is for conventioneers. This is one aspect of Disney that I am not too fond of. I understand that conventions bring in large sums of money but the ordinary park goer has had to fork out a fair bit to be there as well. I don't mind space being set aside for private functions but it seems that every time I go there are larger and larger areas being restricted to the general public. Pretty soon there will be nowhere left to watch from. I am starting to loathe those pesky conventioneers with their little plastic badges.

Anyway, as it turns out we have very nearly the perfect spot for both shows. Just to the Norway side of Mexico they are stopping people from standing by the lagoon railings in order to keep it free for a walkway while Tapestry of Nations is on. I ask the CM on crowd control duties if we can stand there for Reflections of Earth after the parade is finished and she says yes. So we find an empty spot just across the road to watch Tapestry.
I nip up the road for a beer and then we watch the parade which really is so much better at night. We are just across the road from the roped off disabled section and all these people are so enthusiastic, clapping and cheering every performer. This gives the whole thing more atmosphere and makes for great fun.

Meanwhile, being the devious person that I am, I'm keeping one eye on the end of the parade and one eye on the CM controlling the walkway opposite. When she stops people crossing for the last time and they start to line up at the railings I dart across showing all the agility and grace of a slightly inebriated middle aged man and find one of the last few spots. Tammy and the girls hurry across and we are set.

This position is excellent, much nearer to the globe so that you can see a lot more of the moving figures. You can also feel the heat from the fire quite strongly. I was not sure how much I would enjoy the show after seeing it so many times in January, but I had no need to worry because it was still as wonderful as ever.
Georgia shows another sign of her increasing maturity as we have forgotten the earplugs but she just watches with her fingers in her ears instead. Mind you, she is also very tired by now so we head off back to the Boardwalk via the boat. I know it's not far to walk but when you have a weary Georgia, the less walking the better.

Back at the Boardwalk there is still just time for a trip to the bakery for cakes for the girls while Tam and I have a hot dog. Back in the room there is a bit of a problem with the sleeping arrangements as a debate ensues as to who sleeps which side of the bed. There is a bit of a tantrum and a few tears are shed. Georgia is convinced that the whole world conspires against her and that life is just not fair.
I agree, we've only got two days left.